An amazing accessory to bring with you on your next camping trip is an extra 12-volt deep cycle battery encased in one of the many different types of battery boxes. But what is the best battery box for camping in Australia? This addition to your next trip will allow you to have a completely portable option, separate from your car or caravan, to power all your accessories and to charge electronic equipment. Plug in a blender to make some margaritas or charge up your camping fridge/freezer to keep your meats frozen, your ice-cold, and your fruit fresh. Most battery boxes come with USB charging ports as well to accommodate your cell phones and/or tablets. Whatever you decide to use your extra 12v battery and 12v battery box for, we guarantee you will not regret the convenience it will provide. 
Top 5 Battery Boxes To Buy In 2021: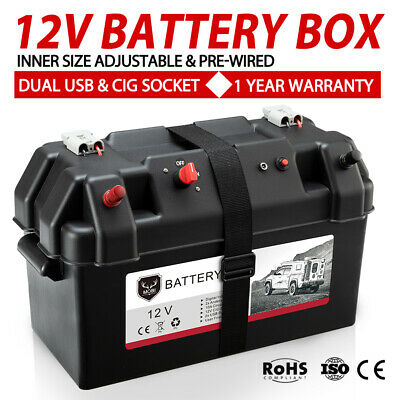 What is a Battery Box?
It is important to note that the battery box is not the battery itself. Battery boxes protect the battery but can also convert the battery's power output to many different electrical power types. For example, the best battery box for camping should be able to convert the power output from a 12-volt battery into 240-volt power, USB power, 5-volt, and provide power to all your 12v appliances. Getting back to the protection that a battery box will provide your camping battery, you will want to contain any leaks of battery acid. Also, a battery box will protect your additional heavy-duty battery from weather, dust, and from any potential damage that may occur during a bumpy ride through the Australian Outback.
Why Use a Battery Box For Camping?
A battery box and a second battery can be used to power a camp fridge, some campsite lighting, and charge your cell phone, tablet, laptop, and/or camera. It is a great idea to have the second portable battery power for camping to prevent you from killing your starting battery on your car or caravan, leaving you stranded.
A deep-cycle battery is the best option for your second battery because they are specifically designed to output power slowly over time, ideal for your appliances and accessories. Where your starting battery is more designed to give short bursts of high-power output to start your vehicle.
Battery Box vs Power Pack
If you are looking at battery boxes but it seems that you may not have enough space on your 4WD, in your caravan, or if you have a smaller vehicle, you may want to consider a portable power pack as an alternative. A power pack for camping is convenient and easy to use. Simply during the day, if you are driving, you can charge your portable power pack off your 12v car battery either through a cigarette lighter or from a vehicle power outlet, recharging both the car battery and the camping power pack from your vehicle's alternator. Then when you are ready to set up camp, if there are no electrical hook-ups available, simply set up your charged battery pack for camping lights, your camp fridge, and to charge you cell phone and other electronic devices overnight. A 12-volt battery pack offers much of the same conveniences of a smart battery box but takes up much less room and has a different approach to how it is charged and used. Either way, a battery box or a power pack are both great investments and it is up to you which is best suited for your needs.
Battery Types for Battery Box
When you are deciding which camping box or portable battery pack for camping you would like, it is important to understand which battery types are compatible with the box you are looking at. Many battery boxes will be suitable for multiple battery types, while others might be specifically designed for only one or two types. Also, if you already own a battery and only need the battery box, be sure you know which type of battery it is you have and if the battery box you are looking at is compatible. Also, know the dimensions of your battery to be sure it will fit inside of the battery box you are considering purchasing. Here is a break-down of three of the most popular battery types.
AGM Battery/12v AGM battery: AGM Batteries are one of the best options for your camping and touring needs for several reasons. AGM batteries will work at peak performance, in all temperature ranges, and without issue. They have thick AGM separators that absorb and holds battery acid to prevent spilling. The AGM battery charges quickly cycle more and last longer. The deep cycle AGM battery also is extremely flexible and can be mounted almost anywhere in any vehicle type. Deep cycle AGM battery prices range from $249.00 to $649.00 depending on the amp hour rating.
Gel Battery: Gel batteries use silica or sand to turn battery acid into a thick liquid that then is spill-proof.Gel batteries are extremely delicate and if not used properly, irreversible damage can occur rendering your battery useless.Overcharging your gel battery or working the battery too hard with a high-energy output, or leaving the battery in extreme weather conditions, can cause serious damage to your gel battery.Prices for gel batteries are comparable to AGM batteries.
LiFePO4: the LiFePO4 battery is a lithium iron phosphate battery. LiFePO4 batteries have a constant voltage discharge simplifying voltage regulation. The most important feature of a LiFePO4 battery that sets it apart from other lead-acid batteries is its safety rating. The thermal and chemical stability of LiFePO4 batteries makes them extremely safe even in extreme temperature situations or overcharging. They also are longer lasting and erode at an extraordinarily slow pace. In general, prices for LiFePO4 batteries are less expensive than their AGM or gel counterparts.
How To Choose The Best Battery Box For Camping
If you determine that a battery box is a better option for you rather than one of the many battery packs for camping, you need to decide which type of battery, and which battery size is best for you. Do you need a large battery box or a small battery box? Do you want an AGM battery or a LiFePO4 battery? All this depends on how much electricity you think you will need to provide power for all your electronic devices and appliances. Once you determine how much power you need, you then can consider other factors including amp hours, weight, and compatibility. Compatibility meaning battery type, input power, and output power options.
Battery Box Amp Hours
All 12v batteries or any portable 12v battery pack will come with an AH (amp-hour) rating. Deep cycle batteries will have amp-hour ratings printed on the battery. If you do not see the amp hour rating printed on the battery there is a good chance you are looking at a starter battery which is not designed to provide steady power over long periods. The amp hour rating is there to tell you how much amperage a battery will provide for one hour. It is important to know your battery's amp-hour rating to understand if that particular battery will be sufficient to supply the power you need throughout the day and overnight.
Battery Box Weight
Weight is important to consider if you are mounting your battery box in a boat, 4WD, or a smaller vehicle. If you are mounting your battery box in a caravan, you may be able to have a large battery box. If you are mounting it in a smaller vehicle, you may need a small battery box or even a small 12v power pack.
Battery Box Compatibility
The last factor to consider for your new battery pack, and arguably the most important, is compatibility. Take an inventory of what electrical appliances and accessories you will be bringing on your camping trip. What kind of power outlets does each of those appliances need? Do you need 240-volt standard electrical outlets? Do you need USB charging ports for your cell phone or tablet? Do you need an Engel outlet for a camp fridge? What about a DC cigarette lighter outlet? Once you determine the output power outlets that you will need, take a look at how you will charge your battery box. This will determine which power input outlets you will need for your new battery box.
Best Battery Box Reviews
Here's our selection of the best battery boxes available in Australia. At Luxe Rover, we own and use the National Luna battery box which has been customised with a Red Arc DC charger for our Land Rover Defender.
Projecta Power-Hub Battery Box
This Projecta battery box is easy to use, all-purpose, camping battery box setup with ten different power outlets. The Projecta battery box is ideal for the adventurer who likes to go off the grid for longer periods where there are no camp or caravan sites with electrical hook-ups. The ten different power outlets include 240-volt AC sockets, USB, cigarette lighter outlets, Engel outlet for camp fridges, 50-amp heavy-duty and Merit sockets, and DC terminals. The Projecta battery box makes the perfect camping battery setup but also can be used for the job site and in the backyard for your home improvement projects. The 240-volt AC sockets are built with a 300-watt Pure Sine inverter which is perfect to charge all your power tools.
RRP: $548.91
Dimensions: H: 330mm W: 235mm L: 400mm
Input Power: 240V AC charger such as the PC400 or PC800. Solar panel. DC-DC charger such as the IDC25.
Output Power: 2 x 15A Merit. 2 x 2A USB. 1 x Engel. 1 x DC Terminal. 1 x 50A Heavy Duty. 2 x 10A Cigarette Lighter Sockets. 1 x 240V AC outlet with on/off switch.
Batteries: Batteries up to N70. Deep Cycle: 60–140Ah. Automotive: 300–800CCA. Marine: 350–950CCA.
Material: Glass Reinforced Plastic
Pros: Ultra-durable. 2.4" LCD colour display. 300W Pure Sine Wave Inverter. 10 power outlets.
Cons: Expensive.
Engel Smart Battery Box Series 2
This Engel battery box is the best smart box on the market! This smart battery box is compatible with either a LiFePO4, Gel, Calcium, or AGM battery. It also can use lead-acid batteries and any standard deep cycle battery up to 130ah. This portable battery pack also can be charged with a solar panel set-up for long-term off the grid camping trips. This Engel battery box is so versatile it is worth the price tag.
RRP: $549.00
Dimensions: 44L x 24D x 32.7H cm
Input Power: 12V & 24V DC | 240V AC Via Adaptor
Output Power: 1 x 12V 10A Cigarette Socket | 1 x 12V 10A Engel Posi Fit Socket | 1 x 12V 50A Anderson | 1 x 240V AC 300W Modified Sine Wave Socket | 1 x 5V 2.1A USB | 12V 100A External Terminals
Batteries: Supports Lead Acid, Gel, Calcium, AGM & LiFeP04 batteries up to 130Ah Battery (not included)
Material: Plastic.
Pros: 300-watt Sine Wave inverter. 240-volt power adaptor included. 1-year warranty.
Cons: Plastic material is not as durable as alternative materials.
Hard Korr Heavy Duty Battery Box
This Hard Korr Heavy Duty Battery Box is an excellent power station for your upcoming camping and touring trip. Easily charges via DC/DC charger, or by plugging a solar panel into a 50A Anderson style port. This battery box also includes a large digital display to monitor your charge status and voltage at all times. Not only is this battery box compatible with an AGM deep cycle battery, but you can also use any lithium, wet, gel, or calcium battery up to 330L x 175W x 220H mm in size.
RRP: $179.00
Dimensions: 45.5L x 24W x 33H cm
Input Power: 12V & 24V DC | 4 x 50A Anderson inputs/outputs
Output Power: 2 x 10A 12V Cigarette Socket | 4 x 50A Anderson inputs/outputs | 1 x 175A Anderson | 1 x Dual USB
Batteries: Suits Deep Cycle | Lithium | AGM | Calcium | Wet | Gel
Material: ABS plastic | UL 94V-0 compliant
Pros: Large battery display that displays charge status and voltage.Good quality at a good price.2-year warranty.
Cons: No 300-watt Sine Wave inverter. No 240-volt power outputs.
KT Portable Battery Box with Voltmeter & Power Accessories
The KT portable battery box is a great power box for a great price. It is a basic best value battery power box that is capable of powering all your basic 12v appliances and much more. Two USP inputs for charging cell phones and tablets, and two 12-volt cigarette lighter sockets. This KT portable power box is not only perfect for camping and fishing trips, but the 4X4 enthusiast will appreciate this KT portable power box's durability.
RRP: $99.00
Dimensions: 420mm (W) x 230mm (H) x 290mm (D)
Input Power: High current positive and negative terminals.
Output Power: 2 x 12-volt marine grade cigarette accessory sockets for charging & powering 12-volt devices. Suitable for charging via 2 x USB inputs 1 x 1Amp, 1 x 2.1Amp (3.1 Amp total).
Batteries: Suits most 100Ah batteries up to 324mm (W) x 200mm (H) x 185mm (D) in size.
Material: Plastic.
Pros: Built-in battery LED voltmeter. High-current positive and negative terminals. Inexpensive and basic battery box for supercheap. 6Amp circuit breaker for socket protection. Illuminating RESET/OFF Switch for 16Amp.
Cons: No 240-volt power outputs.No 300-watt Sine Wave inverter.
National Luna 12V Auxiliary Battery Box – Blue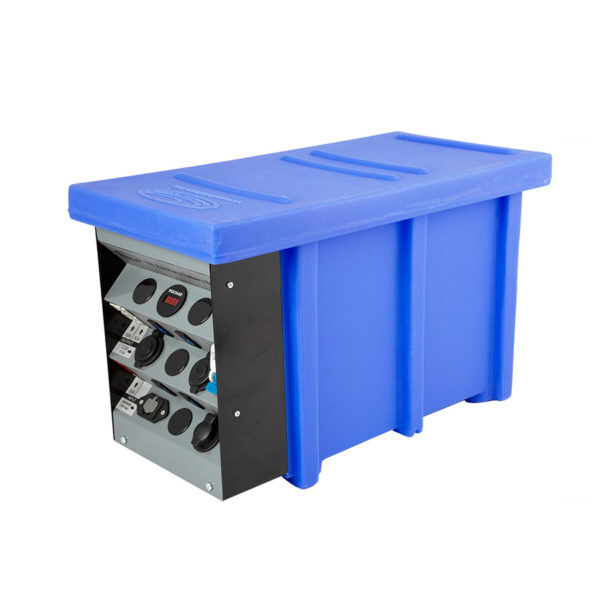 The National Luna 12V Auxiliary Battery Box is customizable with the option to add additional output ports to your specifications. Turn any 12v deep cycle battery into a custom battery box that you design yourself. Included with this 12v battery pack are two USB charge ports for all your devices, two DC sockets, two 50A coupler plugs, and four spare pre-wired output ports. This portable battery box is versatile and suitable for almost any 12v car battery.
RRP: $395.00
Dimensions: 495mm x 255mm x 320mm
Input Power: DC/DC charger.
Output Power: 2 x USB charge ports standard. 2 x DC Sockets standard (1 x Cigar, 1 x Hella). 2 x 50A Grey coupler plugs standard. 4 x Spare pre-wired output ports.
Batteries: Suitable for most automotive batteries with a max battery size (Incl. Terminals) of 355mm x 180mm x 270mm.
Material: Plastic.
Pros: Built-in Battery Voltmeter. NL5 Intelligent Charger port. The compact design makes this perfect for tight spaces in your boat, car, or caravan. Comes with four spare pre-wired output ports. Compatible with most vehicles. 3-year warranty.
Cons: No 240-volt power outputs. No 300-watt Sine Wave inverter. Expensive for such a basic camping power pack.