If you need the best headlamp or the best LED torch in Australia, we got you covered. We have prepared a diverse list of our favourite headlamps available on the market right now. The list includes everything from the top-of-the-line higher-end models, to cheaper kids' friendly models. A headlamp is an extremely useful tool when camping or doing other activities where light is required, but you need to have your hands free. Ever try to set up a tent in the dark?
Editor Note: make sure to check out our top 10 inflatable kayak guide here
Below we will discuss the benefits of using a headlamp, what to look for in a headlamp, and follow it up by giving some suggestions for our favourite headlamps on the market right now.
Our Top 10 Headlamp Pick Up
What Are the Benefits of Using a Headlamp?
A headlamp is a thousand times better than the average torch. The hands-free capabilities alone should be enough to convince you. Being able to set up a tent, make a fire, use the toilet, find something deep in your backpack at night, is so much easier when you have both hands. Also, a headlamp is ideal for individuals who need both hands like fisherman, hunters, or even car mechanics.
Headlamps are always compact compared to other light sources like lanterns and torches. Also, headlamps can be rechargeable as oppose to some lanterns that may need white gas.
Headlamps can be extremely strong and can light up large areas in your light of sight.
Headlamps are safe and easy to use.
Headlamps allow you to keep track of your kids at night when they are running around camp in the dark.
What to Consider Before Purchasing Your New Headlamp
We know why using a headlamp is a no-brainer, so what different features of a headlamp should we look at carefully before making our purchase. Here is a list below.
Beam
Beam Type: Headlamps have many different beam types and you should choose the one that will best suit you for your intended activities. A flood beam is a great general light that casts a wide beam of light to allow you to easily see all of your surroundings. A spot beam is ideal for navigating through the woods at night by having a more focused beam to light up your walkway. Red, green, and blue beams are also a great addition for enhanced night vision capabilities. If you would like, many headlamps offer multiple beam settings allowing you to easily change the type of beam you need in each situation.
Beam Distance: Beam distance also depends on your intended nighttime activities. Will you be at camp most of the night and only leave to use the bathroom? Then a shorter beam distance will suffice. If you plan on going on night hikes, then you will want at least a 100-metre beam or higher.
Lumens
Lumens is the unit of measurement used to measure the power of a beam of light. The greater the number, the stronger the light.
Batteries
Batteries and recharging capabilities are vital. A rechargeable headlamp will be ultra-convenient and save money on purchasing batteries all the time. Also, carefully read the runtime of each headlamp you look at before purchasing. You might want a rechargeable headlamp that will last you an entire camping trip and only need to be charged when you are back at home. Or maybe you will not have electric access and then a battery-powered headlamp with a long runtime is better. Either way, consider what your access to electricity will be and how much light you will need throughout your trip.
Ingress Protection Code
A headlamp's Ingress Protection (IP) Code rates the degree of protection provided by the mechanical casing and electrical enclosures against intrusion, dust, contact, and water.
The most common IP codes for headlamps for sale on the consumer market include IPX4, IPX6, IPX7, and IPX67. The first digit represents solid particle protection where the second digit represents the liquid ingress protection.
For example, an IPX7 would mean that there is no data available about dust protection but is protected from water immersion at a depth of 1 metre for up to 30 minutes.
For a complete explanation of the IP code and its different meanings go to https://en.wikipedia.org/wiki/IP_Code
Comfort
When using a headlamp around the campsite, while hiking, or for doing work around the house, comfort is important. If you are hiking a lot and sweating, you will want a headband design to absorb and keep sweat from dripping into your eyes. Also, you may want the headband to be removable so you can wash it after a full day of sweaty hiking.
Some headlamps are extremely lightweight, and you will hardly notice them on your head while others may be bulky and heavy. Whichever headlamp you are looking at, just be sure to read carefully the material, weight, headband, and battery pack specifications to ensure ultimate comfort.
Best Headlamp Review
Ledlenser H14R.2 Rechargeable Headlamp
This led lenser headlamp is one of the best headlamps in Australia. Easily recharge your headlamp's rechargeable Lithium-Ion batteries by USB and enjoy 35 hours of runtime on the low setting. Super lightweight, comfortably sits on your head and possesses an advanced focus system that provides a focusable beam from a pivotable head which is also dimmable. The lamp and battery pack are removable and can easily be attached for use on a bicycle or on a camp chair to act as a reading light.
RRP: $284.95
Material: Alloy
Dimensions: 8.5L x 12W x 12H cm
Light Source: 1 x Xtreme Power LED
Beam Distance: Low 70m | Power 200m | Boost 300m
Lumens: Low 60 | Power 450 | Boost 1000
Protection: IPX4 Water Resistant
Batteries: Rechargeable Lithium-Ion included
Run Time: Low 35 hrs | Power 12 hrs | Boost 6 hrs
Weight: 0.340 Kg
Pros: 3 light programs and 5 light functions. IPX4 Water Resistant. Rechargeable Lithium-Ion included. Covered under a 5-year warranty.
Cons: Expensive
Petzl Swift RL Headlamp
This petzl headlamp is a white light led headlamp with reactive lighting that adjusts automatically to your surroundings by changing beam patterns or brightness as needed. USB chargeable with a five-level battery charge indicator, this headlamp is ultra-light and perfect for trekking, mountain biking, or as a running headlamp. Over the years, petzl headlamps have built a reputation of providing a dependable product.
RRP: $ 209.95
Material: Plastic
Dimensions: Not given
Light Source: White LED
Beam Distance: Reactive Mode/Standard Mode – Low 35m/12m | Standard 55m/55m | Maximum 150m/110m
Lumens: Reactive Mode/Standard Mode – Low 100/10 | Standard 300/200 | Maximum 900/550
Protection: IPX4 Water Resistant
Batteries: 2350 mAh Lithium Ion Rechargeable Battery Included
Run Time: Reactive Mode/Standard Mode – Low 10-50hrs/100hrs | Standard 5-40hrs/5hrs | Maximum 2-30hrs/2hrs
Weight: 0.10 Kg
Pros: Ergonomic adjustable headband that is washable and detachable. The headband is reflective for night visibility. Come with a five-level battery charge indicator and is covered by a 5-year warranty.
Cons: Expensive
Black Diamond Icon 700 Headlamp
This black diamond headlamp makes an excellent camping headlamp. The Black Diamond Icon 700 Headlamp is great for night hikers and jungle explorers due to its red, green, and blue lights for night vision purposes. This headlamp is also IPX67 waterproofed up to 1 meter for 30 mins. Comes with a six-setting three LED battery meter which allows you to keep track of battery life as well as lock your headlamp in the off position to prevent it from turning on in your backpack draining the battery.
RRP: $179.99
Material: Plastic
Dimensions: Head 5L x 3.5W x 3D cm | Battery 7L x 7W x 2.2D cm
Light Source: 1 x Quad Power LED | 1 x Double Power LED
Beam Distance: High 140m | Low 12m
Lumens: 700
Protection: IP67 waterproof. Dustproof.
Batteries: 4 x AA Cell included
Run Time: High 7hrs | Low 190hrs
Weight: 0.236 Kg
Pros: Full strength, dimming, strobe, RBG night vision and lock mode settings. Removable battery pack. IPX67 Waterproof up to 1 meter for 30 mins. Covered under a 3-year warranty.
Cons: Not rechargeable.
Ledlenser SEO 7R Rechargeable Headlamp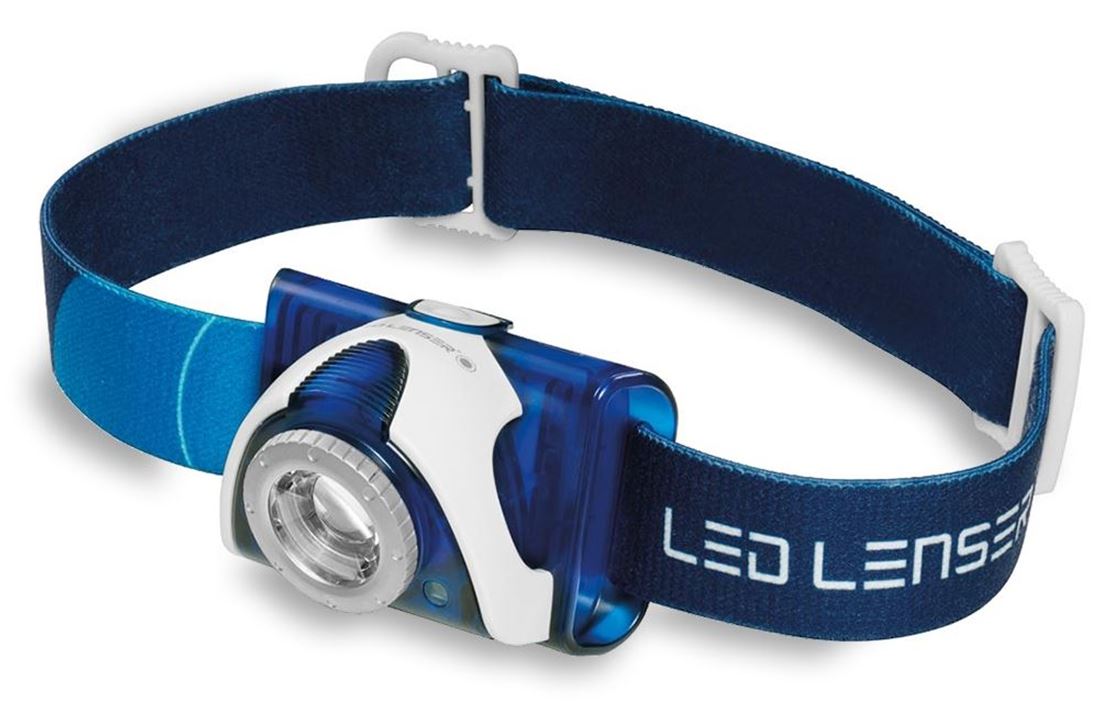 The Ledlenser SEO is an amazing rechargeable headlamp that uses Optisense that senses surrounding light and automatically adjusts the light output to give you the perfect amount of light needed while preserving your battery. Also contains an Advanced Focus System, IPX6 water resistance, and USB rechargeable Li-Ion batteries. All the headlamp reviews for this Ledlenser headlamp declares this is the best headtorch andone of the best lights for camping.
RRP: $194.95
Material: Plastic
Dimensions: 5.5L x 4.5W x 6H cm
Light Source: 1 x High Power LED
Beam Distance: Min 40m | Max 130m
Lumens: Min 20 lm | Max 220 lm
Protection: IPX6 Water Resistant
Batteries: Rechargeable Lithium-Ion included
Run Time: Min 5 hrs | Max 20 hrs
Weight: 0.093 kg
Pros: 4 Lighting modes: Power, Dimmable, Optisense and Signal. USB Rechargeable Li-Ion battery. IPX6 Water Resistant. Super lightweight. Covered under a 5-year warranty.
Cons: Expensive
Nitecore HC60 Headlamp
The Nitecore HC60 Headlamp is not only great for camping but it is the best head torch for working in the garage, especially underneath a car. Lightweight, versatile, and waterproof. Manufacture with heavy-duty and durable aircraft-grade alloy. Heavy-duty without the added weight.
RRP: $134.95
Material: Hard Anodised Aircraft Grade Alloy | Polycarbonate
Dimensions: 7.9L x 3.9H x 4.5D cm
Light Source: Cree XM L2 LED
Beam Distance: 117m max
Lumens: Low 1 | Mid 210 | High 420 | Turbo 1000
Protection: IPX7 water-resistant to 1 meter
Batteries: 1 x 18650 Li-Ion Reachargeable (included) | 2 x CR123 (optional)
Run Time: Low 680hrs | Mid 25hrs | High 2.30hrs | Turbo 1hr
Weight: 0.154 Kg
Pros: Five brightness levels and three special modes. Intelligent Li-ion battery charging circuit via the micro-USB charging port. Impact and water-resistant to 1 meter. Comfortable and chafe-free breathable nylon headband. Covered under a 5-year warranty.
Cons: Turbo mode only has 1 hour of runtime before the battery is completely drained.
Knog PWR Headtorch 1000L + 3350 mAh PWR Bank
The Knog PWR Headtorch is compatible with separately available PWR bike lights and flashlights. This is an immensely powerful headlamp and features a beautiful nine LED light glow ring. Great for hiking, camping, touring, and for use around the house.
RRP: $189.99
Material: Nylon | Elastic Band | Aluminium
Dimensions: 17L x 20.5H x 6.5D cm
Light Source: 3 x LED | Elliptical Style Wide Beam | 9 x LED Glowing Ring
Beam Distance: Not given
Lumens: 1000
Protection: Water-Resistant
Batteries: PWR Bank Small 3350 mAh | Compatible with Knog PWR Bank Medium
Run Time: At Max Lumens with PWR Bank Small 2hrs | Medium 3.5hrs
Weight: Headtorch 0.265 Kg | Headstrap 0.115 Kg | Lighthead 0.50 Kg | PWR Bank 0.100 Kg
Pros: Multi-functional. Water-resistant. 1000 Lumens of power. 9 LED lights creating a glowing ring.
Cons: Only a 2-year warranty.
BioLite HeadLamp 330
The BioLite HeadLamp 330 is a great headlamp to keep track of your children at night when on a family camping trip. It is inexpensive, has an exceptionally long runtime on the low setting, and only weight 69 grams. Comes in blue and red.
RRP: $99.99
Material: Plastic
Dimensions: 5.8L x 3.7H x 2.5D cm
Light Source: LED
Beam Distance: Flood: 16m | Spot: 75m
Lumens: 330
Protection: IPX4
Batteries: 900 mAh, 3.4 Wh Li-on, USB Rechargeable
Run Time: Low 40h | High 3.5h
Weight: 0.069 Kg with Battery
Pros: Long battery runtime on low. Moisture-wicking fabric keeps you cool and dry. Weighs only 69g. Great for kids.
Cons: Comes with only a 1-year limited warranty.
Petzl Actik Headlamp
If you are searching for cheap petzl headlamps Australia, thenlook no further than the Petzl Actik. This headlamp is compact, durable, and designed for high-performance activities like mountaineering, running, hiking, and backpacking. Super lightweight at only 86 grams and has over 120 hours of runtime on the low setting. Has both a white LED and a red LED for excellent nighttime vision around the campsite.
RRP: $86.50
Material: Plastic
Dimensions: 5.6L x 4H x 3.6D cm
Light Source: White LED | Red LED
Beam Distance: Low 8m | Standard 45m | Maximum 80m
Lumens: Low 6 | Standard 100 | Maximum 350
Protection: IPX4 Water Resistant
Batteries: 3 x AAA/LR03 included | Compatible with CORE Rechargeable Battery
Run Time: Low 120hrs | Standard 12hrs | Maximum 2hrs
Weight: 0.086 Kg
Pros: IPX4 weather-resistant Flood or mixed beam patterns. Red lighting mode. Reflective headband. Covered by a 5-year warranty.
Cons: Fragile and low lumens.
Hard Korr 10W LED Headlamp
The Hard Korr 10W LED Headlamp is heavy duty and tough. This headlamp comes with IP66 waterproofing, a shatterproof lens, and 850 lumens of light. Perfect for hands-free activities like fishing and hunting.
RRP: $45.00
Material: Alloy
Dimensions: 10L x 8W x 7D cm
Light Source: 10W Cree XML2-U3 LED
Beam Distance: Not given
Lumens: 850
Protection: IP66
Batteries: 4 x AA Included
Run Time: Low 10 hrs | High 4 hrs
Weight: 0.32 Kg
Pros: Inexpensive. IP66 waterproof rating. Head rotates 90 degrees. Three modes: high, low and strobe.
Cons: Heavy, bulky, not rechargeable.
Coleman CHT10 Headlamp
The Coleman CHT10 Headlamp is an inexpensive, easy to use headlamp that comes with three separate focused modes and a pivoting head. Come with three triple-A batteries and a battery indicator light to let you know when batteries need to be replaced. Good for camping, hiking, and finding things in a dark tent at your campsite at night.
RRP: $49.95
Material: Plastic
Dimensions: 7L x 4.5W x 3.5H cm
Light Source: Cree XB-D LED
Beam Distance: Low 28m | High 54m
Lumens: 100
Protection: IPX7
Batteries: 3 x AAA Cell included
Run Time: Low 26 hrs | High 7 hrs
Weight: 0.1 Kg
Pros: Inexpensive.Easily adjusted head strap. Battery indicator. Three focused white light modes – low/med/high. Pivoting head. IPX7 waterproof and submersible to 1 metre.
Cons: Non-rechargeable. Only 100 lumens.