Swags are synonymous with camping in Australia. Having a swag means you can sleep anywhere and in any condition. Finding the best swags (also know as swag tent or camping swag) can be a daunting task, so in this article, we will try to find the best Aussie swag on the market. We'll take a look at the best single swags, best double swags and best king swags out there to suit your requirements and most importantly; your budget!
Tip: make sure you get a comfortable self-inflating mattress for your swag!
What Is A Swag Tent?
The modern swags are much more like a tent compared to the traditional swag, which is essentially a weatherproof sleeping bag without any poles or structure. These days most people prefer swags that look more like a tent due to the additional comfort while yet maintaining that portability.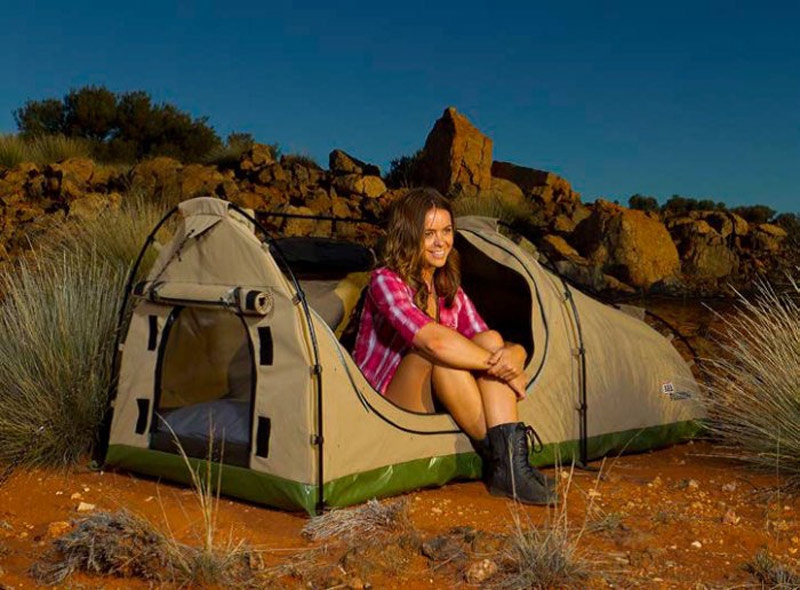 Swags are a low profile way to camp pretty much anywhere. Most swags have a mattress built-in and roll-up. Unlike a tent, the majority of best swags can stand with a minimal guide or no guide robes, which makes them perfect for all conditions.
Size-wise, swags come in single or double/king versions to accommodate 1 to 2 people. Unlike a tent, swags are purely designed for sleeping.
Australian swags differ significantly in price and can range between $150 to $900 depending on the brand and quality of the swag. Let's jump in and see which is the best swag!
Top 3 Budget Swags
AU $258.00
AU $328.00
in stock
AU $239.99
AU $599.99
in stock
How To Save On A New Swag Tent? Tentworld Discount!
We've partnered with the legends at Tentworld Australia to give our readers an exclusive Tentworld discount code! Click on the code below to copy it and save on your brand new camping swag.
Best Swags (Single Dome Swag Tent)
Single swags are very popular due to their compact size and weight. These are also known as dome swags due to their dome-shaped design; guided by swag poles. Anyone can set up a swag in minutes and thanks to the built-in mattress, you're ready to hit the hay while your friends are still pitching their tent.
1: Darche Dust to Dawn Swag 900 Review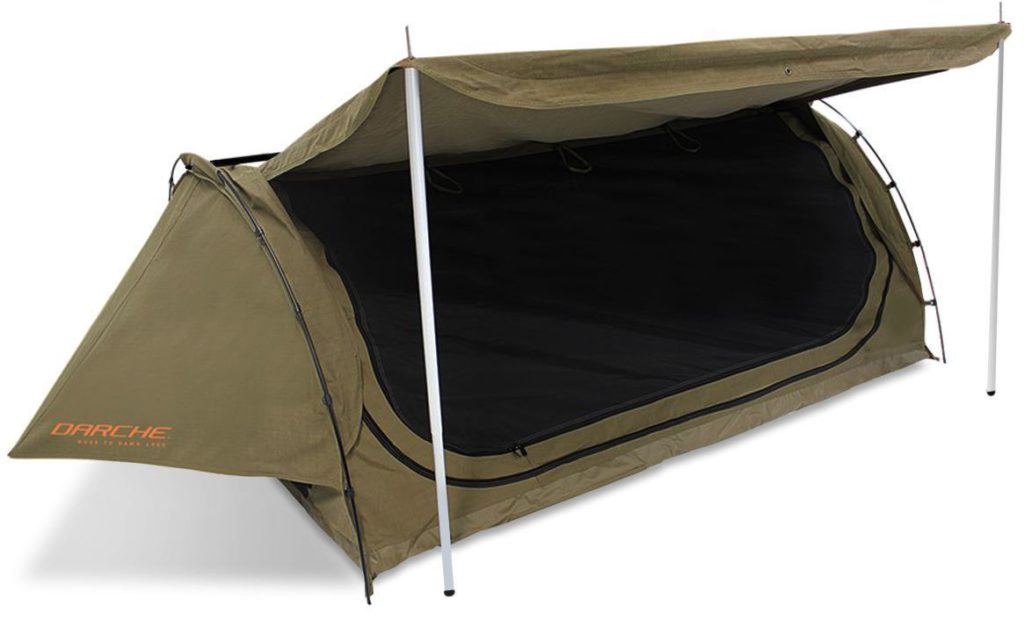 The Darche brand is well known for its quality swags in Australia. In fact, the brand started out producing swags before venturing into roof top tents and other camping equipment some 20+ years ago.
The Darche Dusk To Dawn 900 swag is perfect for stargazers as the two large entries roll up for an unimpeded view of the sky. This swag is freestanding by design and has a 7cm thick memory foam mattress.
The entry to this swag can be propped up with like an awning, and of course, the whole set up is weatherproof thanks to 420gsm pre-proofed ripstop polycotton canvas.
This swag from Darche also comes with a heavy-duty bag and includes poles and pegs to get you set up.
2: OZtrail Mitchell Discovery KS Swag Review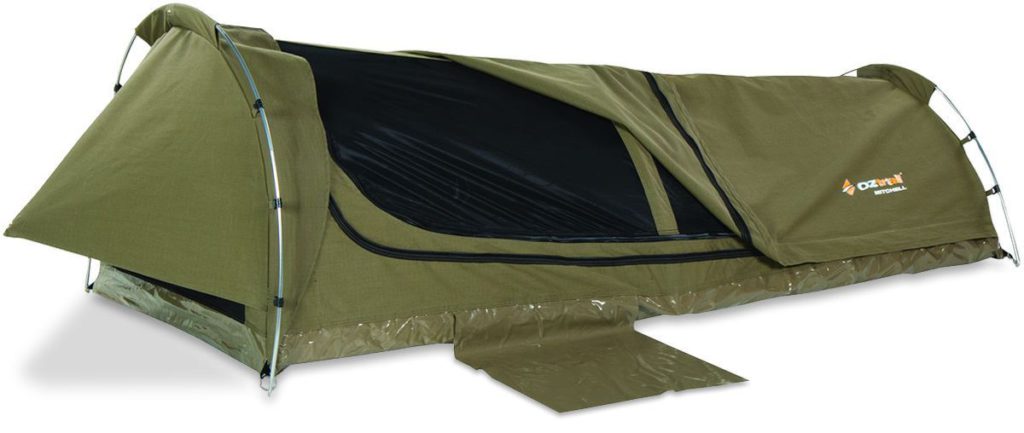 The OZtrail Mitchell Discovery KS swag is one of the most popular ones on the market. It's the ideal single swag if you're looking to maximise quality and budget but also want a low profile and slightly lighter swag to carry on your camping adventures.
The ripstop canvas cotton is slightly lighter coming in at 330gsm, and the mattress is 5cm thick; this creates a very lightweight swag that's still 90cm in width. It's possible to pitch this swag without guide robes thanks to the optional middle pole, making it ideal for touring. With a full top opening, the OZtrail Mitchell Discovery KS swag is easy to get in and out and the the mesh layer will keep all insects at bay!
3: 23Zero Bandit Swag 900mm Review
The 23Zero Bandit swag is by far one of the most expensive single swags out there but for good reason. The 70mm high-density memory foam mattress makes for an incredible night sleep while the 400gsm canvas (which is already proofed) will keep you out of the harshest elements the Australian bush can throw at you. The 23Zero Bandit swag has 4 entrances and 2 vents on the head and foot end of the swag for ultimate airflow.
Thanks to its freestanding design, this swag can be deployed on top of a stretcher which is extremely handy during the rainy season or when you want to create some extra distance between you and the crawling things on the ground! The entryways to this swag can also be used as all-weather awnings to keep any rain or sun out.
Best Double Swags
Sharing a swag is always more fun! Even if you don't feel like sharing, a double swag can give you that bit of extra room to fully stretch out in comfort. Here at Luxe Rover, we look at the best and most rugged double swags suitable for Australian conditions.
1: Darche Nebula 1550 Swag Review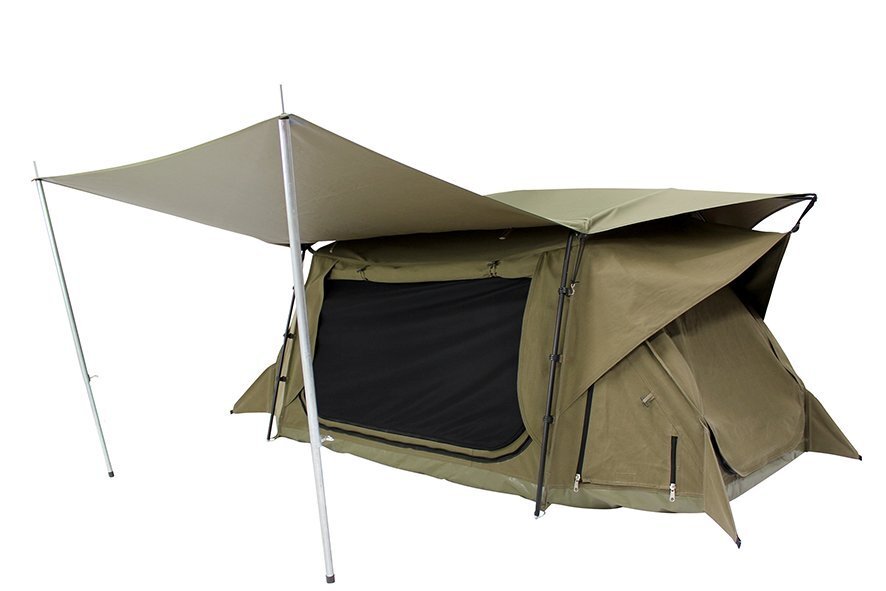 The Darche Nebula is a beast of a swag! As you might have guessed, this double swag is 1550mm wide which I much larger compared to the standard 1400mm double swags out there. The Darche Nebula is the perfect hybrid between a tent and a swag offering plenty of space for 2 to 3 people. This double swag also has an extra awning which will keep the entrance dry and out of the weather. In terms of comfort, the Darche Nebula features 4 entries, a 50mm high mattress and class-leading ventilation to keep condensation out of your swag. In our opinion the best swag out there!
2: 23Zero Bandit Swag 1400 Review
We've covered the 23Zero Bandit Swag before under the best single swags, but when it comes to doubles, the 23Zero Bandit is a force to be reckoned with. Clocking in at 140cm wide, the Bandit swag has 4 separate windows/entries and a thick 70mm mattress pad. The 23Zero Bandit Swag has been proofed which means it's ready to go and water-resistant thanks to the 400gsm canvas. The 23Zero brands know a thing or two about brands and this Aussie swag maker derives its name from the co-ordinates to one of the toughest places on the planet: Alice Springs.
3: OZtrail Mitchell Expedition Double Swag Review
If budget is your main priority, don't look past the excellent OZtrail Mitchell Expedition Double Swag. This piece of kit only costs $299 and is 145cm wide! Although it only has one main entrance, the 3 pole dome style construction and 50mm mattress will almost certainly guarantee you a good night sleep in the Australian outback. The OZtrail Mitchell Expedition Double swag has excellent ventilation and also has no-see-um mesh which keeps even the smallest insects out of your swag!
Best Air Swags (Inflatable Swags)
What exactly is an air swag? Does it fly? Not exactly! An air swag is an inflatable swag. The benefit of having an inflatable swag is that you don't need any poles to provide structure. Instead, the air swag has inflatable poles that provide structure to the tent.
1: Darche Air-Volution Swag AD Review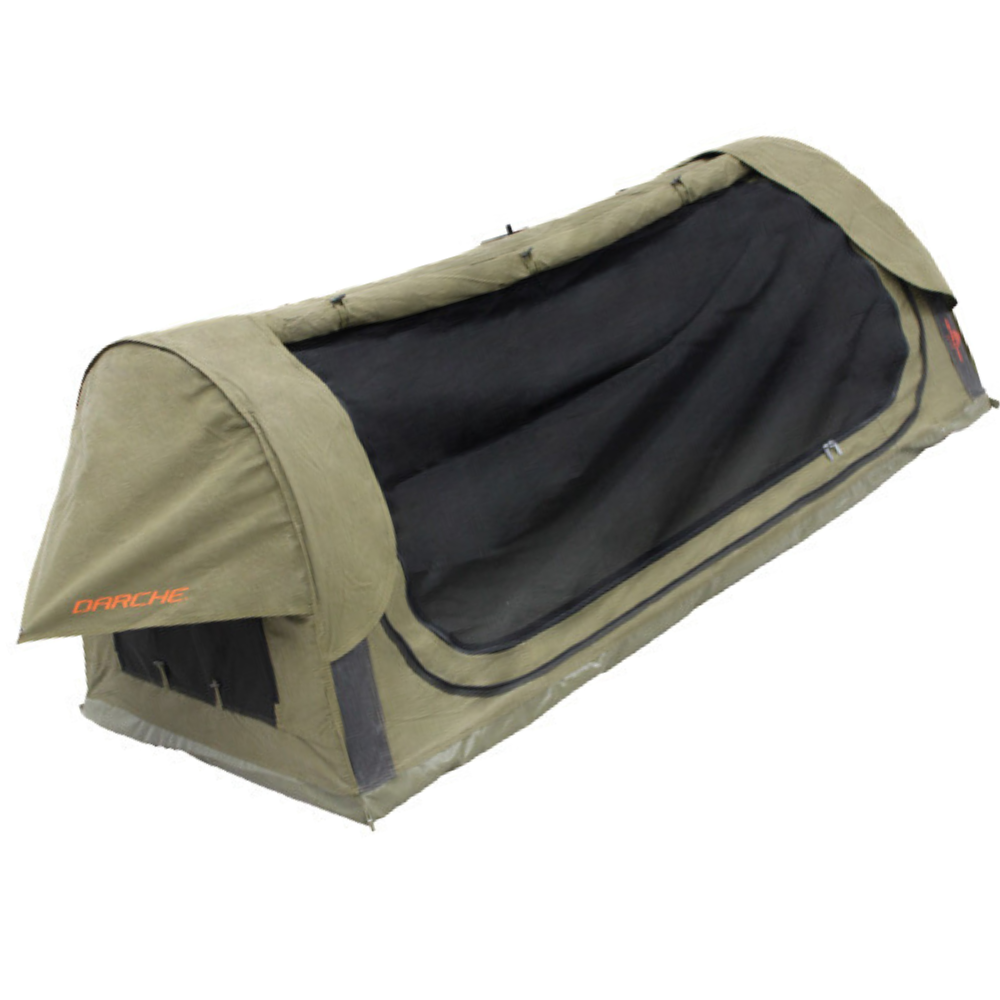 The Darche Air-Volution Swag AD is the latest generation air swags. This swag can be set up in a measly 20 seconds, which is crazy fast! The Darche Air-Volution Swag AD comes with a hand pump which allows you to inflate the swag and a 50mm mattress provide you with all the comfort you need.
2: OZtrail Air Pillar Single Swag
Second in line is the affordable OZtrail Air Pillar Single Swag, which is an inflatable swag without the traditional tent poles. It features a thick PVC base to keep water out and a 50mm thick high-density foam mattress. This tent comes included with the hand pump and carry bag, ready to go!
Best Traditional Swags
Traditional swags are where it all began; these kinda swags provide little to no structure which makes them incredibly portable and lightweight. Traditional swags are essentially an envelope of fabric which protects you from the elements while sleeping. These swags are a great choice if your a bike-packer or if you're out hunting and need to keep a low profile.
1: AOS Bushman Swag – King Single Review
AOS is an Australian swag manufacturer who still makes traditional swags here in Australia. The price is slightly higher compared to the typical Chinese made swags, but you will be supporting Aussie made with superior quality.
The AOS Bushman swag comes with two guide robes and can be set up between 2 fixed structures (such as a couple of trees). Surprisingly this swag has a 70mm thick mattress, so there are zero compromises on comfort here!
2: OZtrail Cooper Expedition Single Swag
The OZtrail Cooper Expedition is a traditional envelope style swag with no set up required. This is the most basic swag and also very affordable at just over $100. If you're a looking for lightweight; this is it! The OZtrail Cooper Expedition Single Swag clocks in at only 4kg, that's extremely lightweight for a swag.
In terms of comfort, it has a 5cm thick mattress and a complete waterproof PVC vinyl bucket floor. The OZtrail Cooper Expedition Single Swag also makes a good kids swag due to its size and price.
Australian Made Swags
If you want to splurge, you have to check out this small scale swag makers who still make their products entirely in Australia from Australian Made materials. There's nothing better than supporting Australian Made, but we also understand that a lot of people simply can't afford the price of these products. That said, their quality is superior, and nothing beats Aussie hand made!
Murchison River Swags
https://www.murchisonriverswags.com/
Sar Major
Sar Major Canvas Goods and Trailers | Sar Major Canvas Goods and Trailers
Sunset Canvas
Sunset Canvas – King Single Swag, Single Swag, Double Swag | Sunset Canvas
AOS
Camping Swags at Lowest Prices with Free Delivery | Snowys Outdoors
Saul Swags
https://www.saulswags.com.au/
Mr Swagman
Mr Swagman | Quality Australian Swags
Southern Cross Canvas
Best Quality Swags for Sale in Australia | Southern Cross Canvas
Jolly Swagman
Traditional and Dome Style Canvas Swags | Jolly Swagman
Summing up – Best Swag For Australia
Finding the best swag for you will depend on your budget and your preference. At Luxe Rover, we always prioritise the mattress of the swag as this will be the key indicator to a good night sleep; hence we prefer 7cm. That said, finding the ideal swag will come down to your budget and choosing a swag from one of the reputable brands we've mentioned above.
Swags Frequently Asked Questions (FAQ)
Best Australian Swags For 2021?

Darche Dust to Dawn Swag 900
OZtrail Mitchell Discovery KS Swag
23Zero Bandit Swag 900mm

Kings swags are they any good?

Adventure Kings Swags offer pretty good value for money, however we don't rate them as the best.

Are swags better than tents
Summary
Chosing the best swag will come down to your personal preferences mostly. Our recommendation is to go with a quality Australian brand and select the features that are most important to you such as size and mattress thickness.
Darche Dust to Dawn Swag 900

OZtrail Mitchell Discovery KS Swag

23Zero Bandit Swag 900mm
Comments Rating
( review)
Pros
Plenty of excellent Aussie swag brands around
Huge variety of quality swags to chose from
Swags come in many budget sizes from super luxe/expensive to budget
Cons
Choosing a swag can be a daunting task!