For any camping or hiking trip, a great set of camping cookware is required. You will want to be able to cook some hot meals around camp and be able to serve those meals to your partner or family members. The best camping cookware will be collapsible, compact, and include everything you need for two to four people. For a bonus, find a cooking set that includes a kettle for delicious hot coffee in the early morning.
You need to consider a few things before buying a camp cooking set like how much space you have and if you want to cook on a camp stove or over an open fire. If you want to cook on the campfire, you will need to make sure the material your cookware is constructed from is suitable to take direct heat from a fire.
Let us explore some of the different options you have for cookware and what the important features are that you should consider before making a purchase.
Editor Note: discover the best pocket knives in our ultimate 2021 review!
Our Top 9 Pick Up
Things to Consider Before Buying Camping Cookware
Before you purchase your camping cookware, first decide if you will be backpacking or car camping. You will have additional room and weight capacity with car camping, and you will want ultralight cookware for backpacking.
Type of Trip
Car Camping: If you are car camping, you will have more room for cookware than you would for backpacking. You may be able to grab a few items from your home kitchen to take with you. Also, if you know you will always be car camping, it may allow you to invest in some heavier items like cast iron skillets and titanium pots and pans.Cast iron and titanium cookware will last you a lifetime and most likely will end up in your children's camping gear when they are adults.
Backpacking: When you are backpacking, weight is key. The less your gear weighs, the better. Especially if you are taking a long trek and hiking every day. Several brands produce cookware that is designed for the backpacker concerned about space and weight. Often, these brands will design collapsible cookware, contains removable handles, and are designed to allow for storage inside when not being used for cooking.
Cooking Preference
Are you a basic chef that looks at food as fuel or do you like to pull out all the stops and cook gourmet no matter where you are? Different sets of cookware cater to each style of the chef.
Simple: A simple chef that will most likely be only cooking oatmeal, pasta, and soups will need a minimal cookware set that at least includes one larger pot. The pot technically could be used to cook every meal.
Gourmet: Foodies will want to invest in a cookware set that has one or two pots and at a minimal one frying pan for sautéing.Add a saucepan for an additional bonus. Gourmet chefs need to have options as well as the capability to use multiple types of cookware for one meal. Make some rosemary chops and mashed potatoes, or maybe a cast iron lasagne? The options are endless if you have the right tools.
Types of Camping Cookware
Individual Items
You can build your camping cookware set by purchasing only the items you will need individually. By doing this you can customize your set and only get what you need.
Cookset
A cook set will include pots and pans. Some sets are larger and may contain more additional items like a saucepan and a tea kettle. Pick out a cook set that contains all the items you will need.
Mess Kits
Mess kits should contain cookware as well as items to dine with. Maybe some plastic plates and forks. Maybe a couple of mugs. Again, each mess kit is different and will contain a mixture of items. Choose which one will be best for you.
What to Look for in Camping Cookware
Cookware is constructed with all different types of materials that each have their pros and cons. Here is a breakdown of the pros and cons of each type of material.
Material
| | | |
| --- | --- | --- |
| Material | Pros | Cons |
| Aluminium | Lightweight. | Not to be used on a campfire. |
| Hard-Anodized Aluminium | Lightweight. | More durable than aluminium. |
| Stainless Steel | Durable and can be used on a campfire. | Food sticks. Hard to clean. |
| Titanium | Indestructible. | Heavy. |
| Cast Iron | Indestructible and all-purpose cooking. Great flavour. | Heavy. |
| Non-stick Coating | Easy to clean. | Harmful chemicals. |
Capacity
The capacity will tell you how much you can cook at one time. Good to know if you have a larger group of people.
Weight
Weight will tell you what to expect to be added to your backpack when going on long treks and hikes.
Cookware Items
These are the basic cookware items included in some cook sets and mess kits.
Pot – Boil water, vegetables, and pasta with ease.
Pan – Fry vegetables, eggs, and meats.
Kettle – Boil water rapidly for instant coffee and tea.
Chopping Board – Slice and dice all your veggies and meats.
Mug – Serve a cup of hot coffee or tea in a mug.
Cutlery – Everything you need for cooking and eating. Spatula, knives, forks, and spoons.
Plate and Bowl – Serve your food on plates and in bowls to separate yourself from the rest of the animals in the animal kingdom.
Cookware Additional Features
Handle / Pot gripper – some handles on pots and pans are collapsible. Some do not include handles. For those, you will need a metal pot gripper to remove the hot pot or pan from the fire or the stove.
Lid – Good to prevent splash and to cook items faster or boil water in less time by trapping heat.
Nesting – Nesting cookware is great to save space. Smaller cookware items will fold into larger items and usually will ultimately all fit inside the largest size pot in the set.
Best Camping Cookware Review
Individual Items
Campfire Skillet 30cm
This indestructible 30cm skillet is perfect if you are looking for camping cookware open fire. Cast iron camping cookware is the best choice if you like to cook over a campfire. This skillet has deep side walls to allow for cooking everything from eggs and bacon to lasagna and even a small pot roast. Comes pre-seasoned and is covered under a 1-year warranty.
RRP: $47.99
Size / Capacity: 46L x 32W x 6H cm
Material: Cast Iron
Weight: 3.8 kg
Cookware Items: Skillet
Warranty: Covered by a 1-year warranty.
Sea to Summit X Pot – 1.4L, 2.8L, 4L
The Sea to Summit camping pot makes an excellent hiking pot due to how lightweight it is and the fact that it is collapsible. This collapsible camping cookware also makes an excellent pasta pot with a built-in strainer. Made from durable hard-anodised aluminium and heat-resistant silicone. The handles and lid are heatproof. Covered by a limited lifetime warranty.
RRP: Orange: $75.99 Blue: $89.99 Red: $119.99
Size / Capacity: Orange: 19L x 19W x 7H cm 1.4L Blue: 21L x 21W x 10.6H cm 2.8L Red: 27L x 26W x 10.5H cm
Material: Food Grade Silicone | 6063-T6 Alloy
Weight: Orange: 0.25 Kg Blue: 0.325 Kg Red: 0.56 Kg
Cookware Items: Cooking Pot
Warranty: Limited Lifetime
GSI Outdoors Glacier Stainless 1.1 L Boiler for Ultralight Backpacking and Camping
GSI Outdoors Glacier makes an excellent camping cooking pot that is ideal for hikers and people who travel light. Light weight pots and camping pots are crucial for hikers taking long treks through the wilderness. This 1.1L boiler is fire-proof, rust-proof, and can be used on a direct flame like a campfire. Constructed from stainless steel, this pot comes with a lifetime warranty.
RRP: $24.95
Size / Capacity: 13.20 x 12.19 x 12.44 cm 1.1L
Material: Stainless Steel
Weight: 0.342 Kg
Cookware Items: 1.1 Litre Boiler, Lid, Mesh Stuff Sack
Warranty: Lifetime warranty for the original owner only.
Snow Peak Titanium Cook Save Pot
Snow Peak branded titanium cookware has built a reputation for manufacturing indestructible quality cookware. This small cooking pot is one of the best cooking pots on the market and it is backed by a lifetime warranty. Built with wrap around handles for streamlined storage.
RRP: $59.95
Size / Capacity: 16 x 10.66 cm
Material: Premium Titanium
Weight: 0.228 Kg
Cookware Items: One titanium pot with a titanium lid and a plastic lid cover.
Warranty: Lifetime warranty.
MSR Alpine Stowaway Pot
The MSR Alpine Stowaway Pot makes excellent camp cooking gear. Comes in four different sizes with pot sizes in ml: 475, 775, 1100, 1600 ml. Create a cooking pots set by purchasing more than one size. Take this camping pot set with you on your next hiking or camping trip and you will be impressed on how little room they take up in your backpack or vehicle. Even use them as additional storage by keeping things inside of them during transit.
RRP: $12.95 – $30.68 depending on the size.
Size / Capacity: 475ml – 775ml – 1.1L – 1.6L
Material: Stainless Steel
Weight: Not given.
Cookware Items: Cooking Pot
Warranty: Not given.
Cook-Set – Mess Kits:
Sea to Summit X Set 31 – 5 Piece Cookset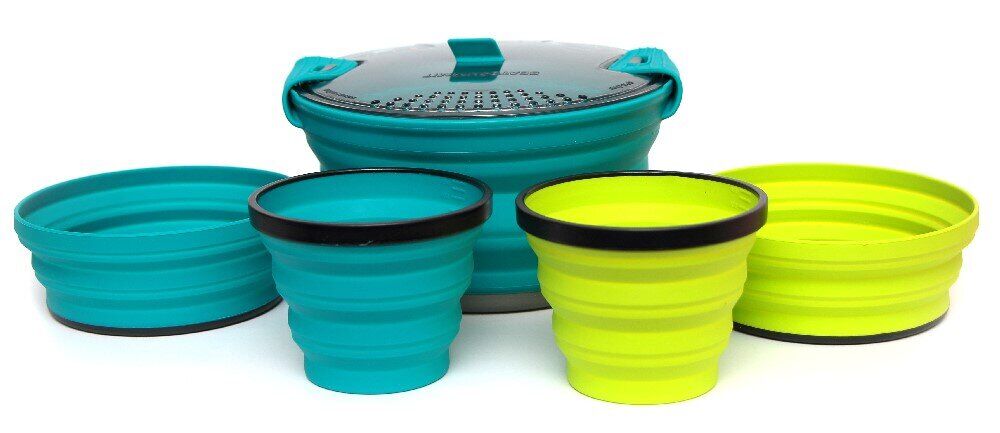 The Sea to Summit X Set 31 cookware set makes the ideal compact dining set for hiking cooking. This 5-piece cook set is ultralight, portable, and comes with two bowls and two mugs. This is one of the best cookware sets for a two-person hiking trip. You can cover all your cooking and eating needs with this set alone. Covered by a limited lifetime warranty and constructed from durable hard anodized aluminium.
RRP: $149.99
Size / Capacity: 21L x 21W x 10.6H cm 2.8L
Material: Food Grade Silicone | 6063-T6 Alloy
Weight: 0.607 Kg
Cookware Items: 2.8L pot. Two bowls and two mugs.
Warranty: Limited Lifetime Warranty.
Winterial Camping Cookware and Pot Set, 10 Piece Set
The Winterial camping cookware set comes with 10-pieces and makes an excellent camping cookware set that packs up ridiculously small. Take this camp cookware with you on your next trekking expedition. This hiking cookware only weighs 0.68 kg. Comes with a tea kettle which is an amazing accessory to have with you in the wilderness for a nice mug of hot coffee in the morning and a spot of tea in the evening before bed.
RRP: $49.99
Size / Capacity: 17.14D x 8.89H cm
Material: Teflon
Weight: 0.68 Kg
Cookware Items: 2 L Large Pot and Lid – 1 L Frying Pan – 1 L Tea Kettle and Lid – Serving Ladle- 2 Personal Bowls- Serving Spoon / Spatula – Cleaning Sponge – Plate / Cutting Board – Carry Bag
Warranty: Not given
Snow Peak Multi Compact Cookset
The Snow Peak Multi Compact camping cooking set comes with a camping frying pan, unlike other sets. Of all the camping dinner sets in Australia, the Snow Peak camping pots and pans cook the fastest. The aluminium material is fast-acting and heats water and food quickly. This is great to conserve cooking gas when on a longer camping or hiking trip.
RRP: $89.90
Size / Capacity: Kit includes 1 L and 0.77 L pots, plus lids that also double as a 0.35 L saucepan and a half a litre frying pan.
Material: Aluminium
Weight: Not given.
Cookware Items: Pots, lids, saucepan, frying pan.
Warranty: Not given.
Lixada Camping Titanium Cookware Set
The Lixada titanium camping cookware set comes with 5-pieces and includes a 750 ml titanium pot. This Lixada camping set makes excellent campfire cookware due to the indestructible and fire-proof titanium material. Put the titanium mug directly on the fire to heat a cup of instant coffee in the morning. Warning! Be sure to have pot holders to hold on to the hot titanium after removing it from the campfire.
RRP: $75.99
Size / Capacity: 750 ml
Material: Titanium
Weight: Not given.
Cookware Items: 5-piece camping cookware set includes a 450 or 750ml pot, an alcohol stove, a stove rack, a foldable spork, and a windscreen.
Warranty: Not given.
GSI Outdoors, Pinnacle Camper Cooking Set for Camping and Backpacking
The GSI Outdoors Pinnacle camping kitchen set and cooking set has everything you need for up to 4 people. Come with two large aluminum cooking pots and complete dining sets for four people. Incredibly durable design and construction.
RRP: $149.95
Size / Capacity: 23.11 x 23.11 x 14.73 cm3L and 2L pot.
Material: Aluminium cookware and polypropylene dishes.
Weight: 1.64Kg
Cookware Items: Includes 4 plates, 4 insulated mugs and sip-it tops and sleeves, 2L pot with strainer lid, 3L pot with strainer lid, fry pan, folding handle, and stuff sack/washbasin.
Warranty: Not given.
MalloMe Camping Cookware Mess Kit Gear
This MalloMe camping cookware set is one of the best cooking sets on the market. It collapses to a small size and includes camping utensils. If you are looking for camping cookware in Australia, then this all-purpose set has everything you need to venture into the Outback and take part in some incredible camping expeditions.
RRP: $19.99
Size / Capacity: 1 Litre
Material: Aluminium
Weight: 0.5 Kg
Cookware Items: The 10 Piece Camping Campfire Cookware Mess Kit includes Anodized Aluminium Non-stick Pot + Pot Cover + Non-stick Pan + 2 Bowls + Folding Stainless-Steel Spork + Soup Spoon + Wooden Spoon Spatula + Cleaning Sponge + Nylon Travel Bag Drawstring Pouch.
Warranty: Not given.