If you want to eat more than just bananas and nuts on your next camping trip, and you would prefer to drink cold beverages in the summer months, then investing in a high-quality camping fridge is a must. A cooler might do the trick, but being dependent on adding ice each day to your cooler to keep your food and beverages cold not only is a hassle, sometimes it is unfeasible depending on how remote your camping trip may take you. You may not see a service station that sells ice for days, causing your meats and other foods to spoil, and your beverages to get warm.
Quick Selection: Our Top 6 Best Camping Fridges
AU $1,295.00
out of stock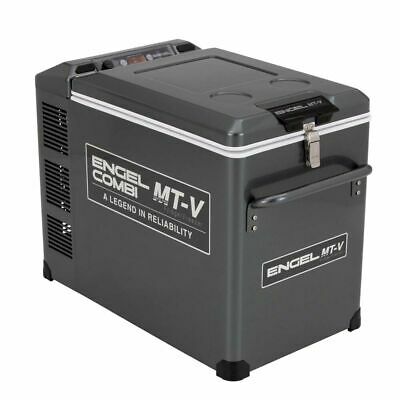 There are many options for a good quality portable fridge out there on the market today that can elevate your camping trip to a new level. There is nothing better than coming back to your campsite after a long day of trekking and being able to grill a steak or some chicken breast, fry up some peppers and onions, and reach into your camping fridge for an ice-cold beverage.
So, how do you know what fridge you should purchase? Do you want a portable camping fridge? Should you purchase a 12-volt car fridge or one of the many other types of car fridges? Maybe a caravan fridge? Do you want a large fridge or a small fridge freezer combo? What about fridge height, or what fridge brands should you consider? How do you power your fridge when camping?
Ok, we did not mean to overwhelm you with all these questions, but we want to stress that there are many important things to consider before making your purchase. But, not to worry! We have combed through hundreds of camping fridge reviews to find for you the best fridges in Australia.
2-way vs. 3-way Camping Fridge Freezer. What is the Difference?
First, you should determine if you would prefer a two-way or three-way camping fridge. The main difference between a two-way and a three-way is the camping fridge power consumption and supply. Two-way portable fridges use only electricity, where the three-way is a gas camping fridge that runs off of LP (liquefied petroleum) gas. The three-way camping fridge also has the option to run off electricity. Whatever you decide, there are pros and cons for each which we have broken down for you below.
2-way Camping Fridge
A Two-way camping fridge is a compressor fridge specifically designed to run off your car battery or from a 240-volt electrical outlet. So, how long will a 12-volt battery run a refrigerator? A safe bet is to say that you can run a 12-volt fridge or 12-volt fridge freezer combo for around five hours before needing to start your car. Anything longer than that and you run the risk of killing your battery and not being able to start your car. Unless you have a second auxiliary battery in which case you can run the fridge for a few days usually.
That is why 2-way camping fridges are also equipped to run off of 240-volt standard electrical outlets. Another perk of the two-way camp fridge is that it can easily be hooked up to a solar panel for long-term off the grid power, however, your camp fridge or camp fridge freezer combo will turn off at night once the sunsets.
Pros: Can run off a 12-volt battery. Solar power capabilities. Effective on uneven terrain. Keeps cool even in the hottest conditions.
Cons: Compressor can be noisy. Batteries need to be charged regularly. Additional purchase of AC adapters. Solar power hook-ups do not work at night.
3-way Camping Fridge
Three-way camping fridges run off LP gas and also have the option to run off of a 12-volt car battery, or a 240-volt standard electrical outlet. Three-way camping fridges are perfect if you plan to be staying in a remote location for a longer time. LP gas tanks can keep the contents of your portable fridge freezer cold for weeks.
Pros: Three different power supply options. Incredibly quiet. Runs for weeks at a time on a single LP gas tank.
Cons: Does not perform as well as compressor fridges. Requires level terrain. Drains 12-volt batteries quickly. Creates fumes and needs to be properly ventilated.
Should I Get a Camping Fridge, a Camping Freezer, or a Fridge Freezer Combo?
After you decide whether the two-way or three-way fridge is the way you want to go, you need to decide whether you want a camping fridge, camping freezer, or one of the many combination fridge freezer options. Things to consider, what kind of food will you be packing? Will you need a freezer for meats? Do you like to keep ice available to make cocktails or other ice drinks? How long is your trip? Can you keep food fresh and, in the fridge, or are you going on a longer trip where you will need to freeze some food items, so they keep longer? Whatever your needs are, there are excellent options for each type of camping fridge.
What to Consider Before Buying a Camping Fridge
So, we have discussed a few factors you must consider before you decide to buy a fridge. Let us recap what we have already covered and add in a few additional factors that need considering. Also, you must decide what your budget is and if you want to look at cheap fridge freezers, or if you are willing to splurge on a more expensive deluxe model.
Power Source and Consumption
Remember we discussed the difference between two-way and three-way camping fridges. Your camping fridge's power source and consumption are one of the most important factors to consider. How will you power your camping fridge/freezer? Will you be dependent on your car or caravan's battery? Or will you have access to electrical outlets? Will you be "off-the-grid" for long periods? Again, these questions will help you determine whether you will need one of the two-way, strictly 12v fridge freezers that have the option for a solar or 240v power supply or the three-way which has the electrical options as well as the LP gas power option.
Insulation
The quality of insulation for your fridge is critical for conserving power and to keep your food and beverages colder for longer. The worse your camping fridge's insulation is, the harder your portable refrigerator has to work to maintain your desired temperature. There are three different types of insulation used in the construction of camping fridges: plastic, metal (steel), and fibreglass.
Plastic Insulation: Most camping fridges come with plastic insulation by default. Plastic insulation is more efficient than steel insulation but less effective than fibreglass. Plastic insulation is ideal if you are concerned about fridge cost and looking for an all-around cheap fridge freezer.
Metal (Steel) Insulation: Steel insulation is the strongest and most durable insulation you can choose. If you are looking for a quality 4wd fridge, or if you plan for your camp fridge to take a beating, steel is the way to go.
Fibreglass: Fiberglass insulation makes the most efficient fridge freezers. Another great characteristic of fibreglass insulation is that it does not absorb smells and it is super easy to clean. If you do decide to go with fibreglass, be sure to take extra care because fibreglass insulation is the most delicate of all the insulation types.
Capacity and Size
The next characteristic of your new camping fridge that you should consider is size and capacity. The size that you will need is determined by how long your trip is, and how many people are in your group. Are you flying solo for a week, have the entire family for a long weekend, or just you and a loved one for a quick weekend trip? Also, how much space do you have in your car or caravan? Here is a breakdown of the most common camping fridge sizes in Australia.
25L or smaller: Perfect to pack your lunch for a quick day trip, or if you need to refrigerate medicines for a longer trip.
5L: Ideal for a weekend trip with your loved one, or an entire week by yourself.
40L: Good for two to three people for a long weekend. This is the most common camp fridge size.
50L: Ideal for a weekend family trip, or a group of two for an entire week.
60L-65L: Perfect all-purpose camp fridge size for a family of five.
80L or larger: The 80 litre or larger portable refrigerators provide enough space for large group camping trips.
Weight
The weight of your camping fridge freezer is important to consider depending on the size of your vehicle, if you need to carry the fridge from your vehicle into your campsite, and how much other camp equipment you need to pack into your vehicle. Obviously, the larger the capacity, the heavier it is. Also, the type of insulation you choose could add additional weight. Steel insulated, or steel encased fridges will be significantly heavier than fibreglass or plastic insulated refrigerators.
Other Features
Camp fridges have come a long way since your grandfather's icebox. Nowadays you can purchase a simple 12-volt car fridge, or you can explore the most deluxe dual-zone fridge freezers equipped with digital displays, USB ports, and Wifi connectivity. Here is a list of some of the extra features you may consider before you purchase your new fridge.
Battery protection: The best fridge freezers and the best portable fridges will contain a battery protection feature that will automatically turn off the fridge before it kills your car or caravan battery.
Baskets: Using baskets inside of your camp fridge freezer makes it easy to keep your food and beverages organized and easy to access.
Wifi/Bluetooth connectivity: Wifi-enabled portable fridges allow for you to set and monitor temperature from an easy to use app on your smartphone or tablet.
Digital Display: A digital display built into your camping fridge allows for easy temperature control and monitoring.
Best Camping Fridge Review
Now that we understand all the different options available and which factors are important to consider before purchasing your new camp fridge, let us take a closer look at our favourite camp fridges from Snowy's camping list. We have gone through hundreds of camping fridge freezer reviews to identify the top fridge brands in Australia.
Dometic Waeco CF-18 Fridge Freezer
This Waeco car fridge is compact and lightweight and can fit in any sized vehicle. This Waeco portable fridge is perfect for a day at the beach or a quick day trip to the mountains.
RRP: $699.00
Power source: Powered from 12/24V DC. Adaptor required for 240V.
Power consumption: 78kWh/24h @12VDC | 5°C interior | 25°C ambient
Cooling temperature range: 10°C to -18°C
Capacity and Size: 18L External Dimensions: 46.5L x 30W x 41.4H cm
Insulation: CFC-free Polyurethane Foam
Pros: Compact and durable. Sturdy carry handle. Full compressor cooling & freezing capability.
Cons: Heavy for its smaller size. Adaptor required for 240V.
Dometic Waeco CFX-28 Fridge
This Waeco fridge is the perfect portable fridge for car, truck cabin, or SUV storage. This camp fridge was specifically designed to fit into compact spaces and to be an easy cool fridge that will keep its contents cool in the most extreme heat conditions.
RRP: $999.00
Power source: 12/24V 6.5A DC | 100-240V 0.75A 50/60Hz AC
Power consumption: 0.75 Ah/h @12V, 5°C interior, 32°C ambient | 6.5A Maximum
Cooling temperature range: +10°C to -22°C
Capacity and Size: 26L External Dimensions: 62L x 34.2W x 42.5H cm
Insulation: CFC-free Polyurethane Foam
Pros: Detachable lid, interior light, and USB charging port. 3 Stage battery protection.
Cons: Expensive.
Bushman Fridges 35-52L Portable Fridge Freezer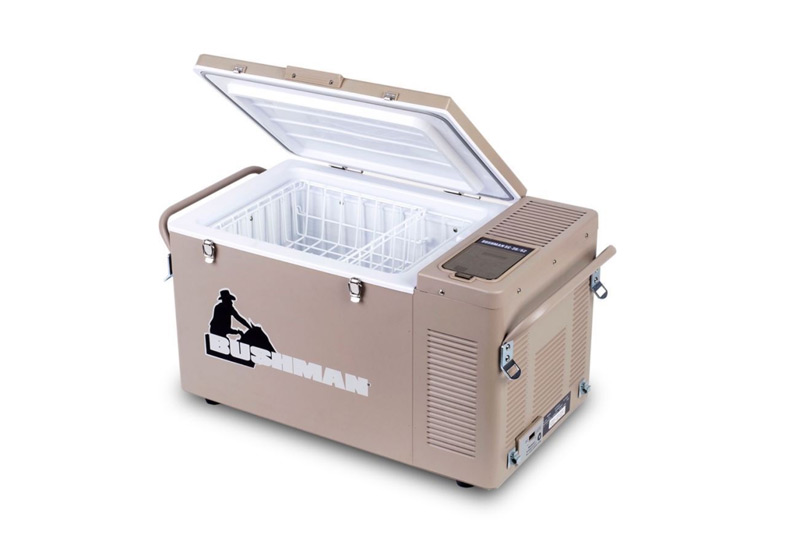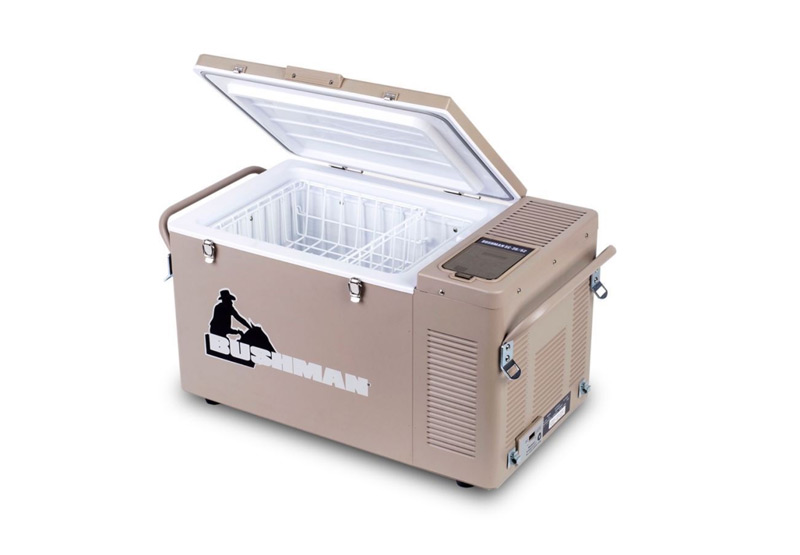 This Bushman's fridge is everything you need for a family camping trip. With plenty of space, organizing baskets, and extremely durable steel casing, this camp fridge is your all-in-one, perfect travel companion.
RRP: $1,395.00
Power source: 12/24V DC | 240V AC
Power consumption: 0.67Ah/h @12V | -4°C interior | 25°C ambient | 52L configuration
Cooling temperature range: 10°C to -22°C
Capacity and Size: 52L External Dimensions: 69L x 38.5W x 54.5H cm
Insulation: High-density Polycarbonate lid & interior
Pros: 12V Battery protection @10.4V. Three baskets included. Comes with a 5-year compressor | 3-year fridge warranty
Cons: Expensive.
Evakool TMDZ 60 Travelmate Dual Zone Fridge Freezer 51L
The Evakool fridge reviews are in and people are raving about this camping fridge. This Evakool dual-zone fridge freezer is ideal for fishing trips, camping trips, and can be easily strapped in to be 4×4 fridge for some off-road adventures.
RRP: $1,239.00
Power source: 12/24V 8.2A DC | 100-240V 1A 50/60Hz AC
Power consumption: Fridge/Fridge 1.0 – 2.0 Ah/h @12V, 4°C interior | Freezer/Freezer 2.0 – 3.0 Ah/h @12V, -16°C interior | 32°C ambient 24hr period
Cooling temperature range: 10°C to -22°C
Capacity and Size: 51L External Dimensions: 79.5L x 44.8W x 43.5H cm
Insulation: CFC-free Polyurethane Foam
Pros: World-renowned Danfoss compressor. Digital controls and 3-stage settable low voltage protection. Internal bright LED light. 5-year warranty.
Cons: Expensive.
Engel MD40F 38L Fridge Freezer 12/24V DC
This Engel fridge freezer is a perfect addition to your fishing or camping trip. Built to be tough and durable, this portable refrigerator also would make the perfect 4WD fridge to bring with you when you go off the grid.
RRP: $799.00
Power source: 12/24V DC | 240V AC/DC Converter available separately.
Power consumption: 0.5A to 2.75A maximum per hour (DC 12V)
Cooling temperature range: Down to -18°C
Capacity and Size: 38L External Dimensions: 77.6W x 36.6D x 48.3H cm (including handles)
Insulation: High-Density Polyurethane
Pros: Sawafuji Swing Motor. Removable handles. Good value for the price makes the Engel fridge the best price fridge.
Cons: Single dial temperature selection.
Engel MT-V45FC 40L Combi Fridge Freezer
This Engel large fridge freezer is a combination, powder-coated steel fridge that can take a serious beating and keep on ticking. Its compact, tough, and rugged design also comes with a 5-year warranty.
RRP: $1,479.00
Power source: 12/24V DC | 240V AC
Power consumption: 0.5A – 2.7A maximum per hour (DC 12V)
Cooling temperature range: Down to -18°C
Capacity and Size: 40L External Dimensions:73.4L x 37W x 50.5H cm (including handles)
Insulation: High-Density Polyurethane
Pros: 3 configurations – 17L Freezer/23L Fridge – 22L Freezer/16L Fridge – 40L Refrigerator only. World-renowned Sawafuji swing motor. 5-year warranty.
Cons: Extremely heavy for only a 40L portable fridge.
So, What is the Best Portable Fridge Freezer to Buy?
Now that you have had a chance to see our camp fridge reviews, it is time for you to make up your mind and decide which is the best camping fridge to accompany you during your upcoming trip. Whether you are camping alone, or with a large family, a camping fridge is a great addition to your adventure. Happy shopping!