Many people enjoy kayaking for recreation. Its great exercise, super convenient, and allows you to explore waterways where larger boats are unable. From the whitewater kayaking thrill seeker to the avid fisherman, kayaks have proven to be extremely useful and fun. More and more people are turning to inflatable kayaks for their water recreational needs.
The best inflatable kayak should deflate to a convenient compact size, be constructed of puncture-resistant and durable material, and include some additional features. Below we will discuss what you should consider before purchasing an inflatable kayak and then review our top inflatable kayak picks.
Editor Note: make sure to check out our portable BBQ buyers guide!
Our Top 3 Pick Up
AU $169.00
AU $229.00
out of stock
AU $229.00
AU $349.00
in stock
What to Consider Before Purchasing an Inflatable Kayak
Before you hit the lake, river, or whitewater rapids, it is important to purchase the correct type of kayak for your needs. Things like size, material, and intended use must be examined along with a few other features. Here is a complete break down of what you should consider.
Intend to Use
The first thing to determine is how you intend to use your inflatable kayak. Will it be a fishing kayak? Or a whitewater kayak? Do you plan on taking it onto the ocean or just your backyard pond? Your intended use will dictate the material, size, and special features of your inflatable kayak as well as help you choose your kayak.
Kayak Seat
The kayak seat is important and should be adjustable and removable. You can easily make a 2-person kayak into a single kayak by removing one of the seats giving you more legroom. Also, the seat material and design are important for comfort. This is especially important for fishermen who plan to be in their kayak for hours at a time.
Material
PVC: PVC gets a bad reputation for its environmental impact however it is durable and cheap to make.
Hypalon: Extraordinarily strong, but not as strong as PVC. Has other features that PVC does not have like UV ray and chemical resistance.
Nitrylon: A heavy material that is more durable and less harsh on the environment than PVC.
Stability
Essentially the wider a kayak is, the more stable it is. However, it will also be quite a bit slower and harder to paddle. You will want to find a kayak that has a good balance. You do not want something too narrow and you end up flipping into the water before you even get away from shore.
Comfort
For ultimate comfort, you want to consider how big the kayak is and if it will be able to provide you with ample legroom. Also, if you plan to spend long periods in your kayak, a well-padded seat is necessary. If it is adjustable, even better.
Types of Kayak
Kayaks come in all shapes, sizes, and styles. Here is a list of a few of those styles.
Sit on Top Kayak
A sit on top kayak is usually wider than other kayaks, is more stable, and is easy to get in and out of. You will get wet in a sit on top kayak from splash, so be sure you are prepared. Sit on top kayaks make good fishing kayaks.
Sit Inside Kayak
A sit-inside kayak is just a kayak with an open cockpit where the user climbs in and sits inside the hull. Their legs go under the deck.
Self-Bailing Kayak
Self-bailing kayaks have holes in the floor that will let water out of the kayak as you are using it.
Canoe
If you prefer an inflatable canoe over a kayak, go for it. Canoes have their own set of pros and cons but the main differences between a canoe and a kayak are canoes are always open-top and designed for two people. Also, a single-blade paddle is used rather than the double-blade.
Standup Paddle Board
A standup paddleboard is intended for exercise and recreation. A fun thing to do at the cabin or the beach. You simply stand on a paddleboard and use a long paddle to move through the water. You can also ride waves or go with the flow of the current at your leisure. You also do not have to always stand. Feel free to kneel, sit, or lay on your paddleboard.
The Advantages of an Inflatable Kayak
What makes an inflatable kayak more convenient than their fibreglass counterparts? Inflatable kayaks are more convenient for the obvious characteristic of being able to inflate and deflate. Because of this capability the following categories benefit.
Portability- Take your inflatable kayak anywhere and explore smaller and shallower waterways.
Lightweight – Most inflatable kayaks, when deflated, are so lightweight that any one person could carry it, including some children.
Storage – When deflated, inflatable kayaks pack up small enough to fit in a closet, the trunk of a car, or even under a bed.
Versatility – Inflatable kayaks are versatile and can be used for recreation, exercise, fishing, and exploring.
Easy to clean – Super easy to clean. Clean either inflated or deflated.
Best Inflatable Kayak Reviews
ADVANCED ELEMENTS Straightedge 2 Kayak
The Advanced Elements Straightedge 2 seater kayak comfortably seats to adults with up to a 226 Kg weight capacity. The 2 person kayak itself weighs only 21.31 Kg and can fit into a trunk of a car or the back of a truck with a deflated size of about 100 x 32 x 45. This blow up kayak comes with two folding seats, a repair kit, and a durable storage bag.
RRP: $805.10
Seats: Two folding seats
Material: Heavy-duty PVC tarpaulin material for extreme puncture resistance.
Inflated Size: 396.24L x 88.9W cm
Deflated Sized: 100.33L x 32.385W x 45.72H cm
Kayak Weight: 21.31 Kg
Weight Capacity: 226.796 Kg
Person Capacity: Two people
Special Features: Two folding seats, repair kit, durable storage bag.
Pros: Aluminium bow and stern frame to improve tracking in open water. Two configurations, self-bailing and close ports. A capacity of 226 Kg.
Cons: Includes only a limited one-year warranty.
Intex Explorer K2 Kayak
The Intex Explorer K2 inflatable kayak is an excellent choice for those searching for a high-quality cheap kayak. Comfortably fit two averaged size adults in this kayak that comes with two adjustable and inflatable seats. Designed for smaller bodies of water but still designed for increased visibility with its bright yellow colour. Comes with two paddles, two inflatable seats, a high-output pump, and a removable skeg.
RRP: $146.99
Seats: Two
Material: Heavy-duty puncture-resistant vinyl.
Inflated Size: 313.94L x 91.44W x 54.86H cm
Kayak Weight: 15.875 Kg
Weight Capacity: 181.43 Kg
Person Capacity: Two people
Special Features: Removable skeg and two removable seats. Two paddles 2.18 metres. Hi-output pump. Carry bag.
Pros: Inexpensive. Smaller compact design. Easy to transport and easy to store. Includes a removable skeg for directional stability. Includes two paddles and a durable carry bag.
Cons: Low weight capacity for two people.
Solstice by Swimline Rogue Kayak
The Solstice by Swimline Rouge kayak is a little more basic than other inflatable kayaks. Smaller in size and weight, this kayak is easy to pack, easy to transport, and easy to stow away. Comes with two inflatable and adjustable seats and an affordable price tag.
RRP: $156.25
Seats: Two
Material: Heavy-duty 26G K80 material.
Inflated Size: 320.04L x 83.82W
Kayak Weight: 10.88 Kg
Weight Capacity: 163.3 Kg
Person Capacity: Two people
Special Features: Two adjustable and inflatable seats. Front and rear spray covers.
Pros: Affordable. Includes front and rear spray covers.
Cons: Not designed for big and tall adults.
Sea Eagle 465 FastTrack Inflatable Kayak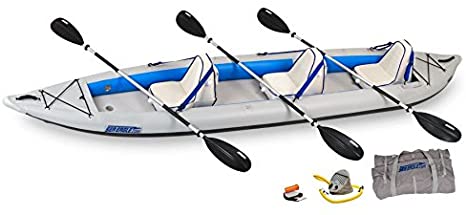 The Sea Eagle 465 FastTrack is the best three-person inflatable kayak in Australia. When reviewing the Sea Eagle's inflatable kayak review users are quick to point out the heavy-duty design and construction, the quality of the removable seats, and how compact the kayak becomes when deflated. It goes from over four and a half meters in length when inflated to 76 centimetres in length when deflated. Easily can be packed away into the included nylon carry bag and carried away on your back.
RRP: $1,617.99
Seats: Three
Material: Sun and salt-resistant hull material.
Inflated Size: 4.65L x 0.91W metres
Packed Dimensions: 76.2L x 48.26W x 22.86H cm
Kayak Weight: 19.95 Kg
Weight Capacity: 360.6 Kg
Person Capacity: Three
Special Features: Large removable skeg, two high-capacity self-bailing drain valves, nylon carry bag, 18 D-rings, three paddles, three removable seats, A41 foot pump, and a repair kit.
Pros: High-pressure drop stitch floor. Large removable skag at the rear for control and improved speed. A large kayak that deflates and packs up small in an included nylon carry bag. The carry bag can be worn like a backpack.
Cons: Expensive
Intex Challenger Kayak Series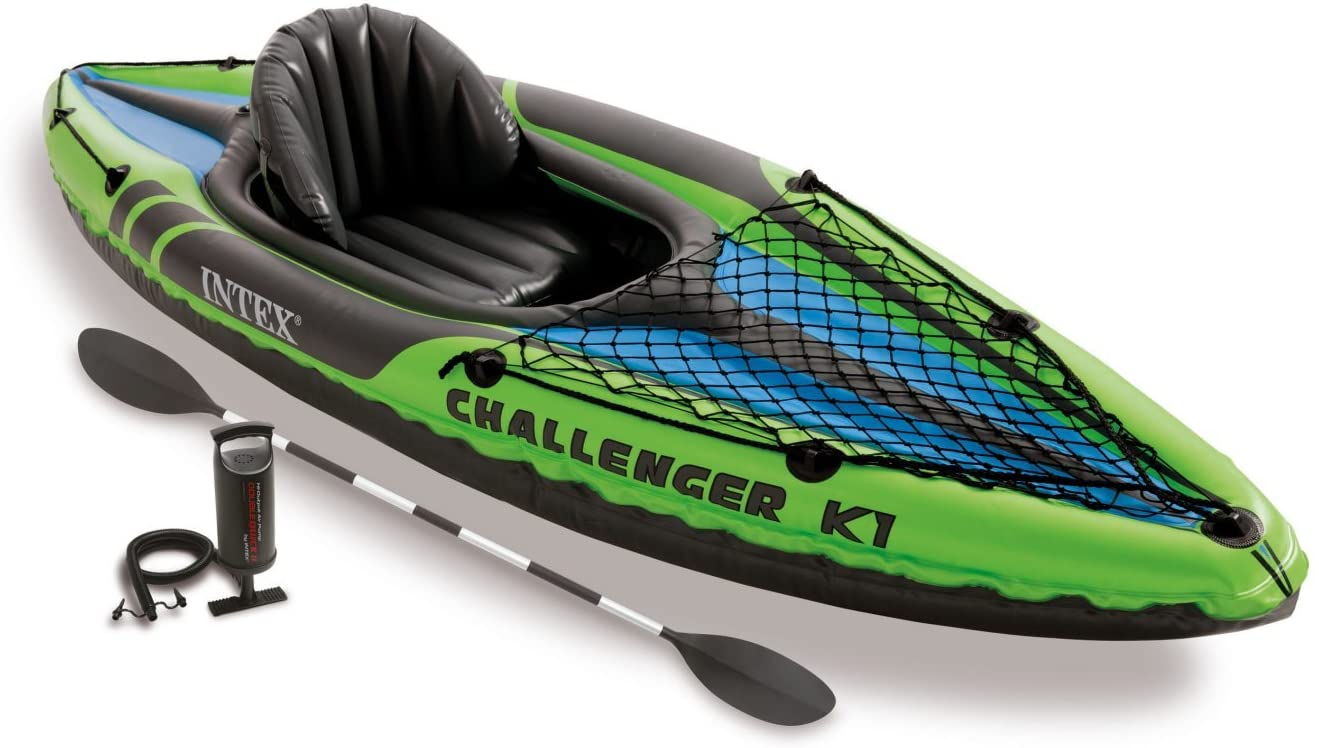 The intex challenger k2 kayak and the k1 kayak are heavy duty and constructed with rugged and puncture-resistant vinyl. Easily flow across the top of the water with this kayak's streamlined design. Comes with the appropriate number of paddles, a high-output pump, and a repair kit.
RRP: K1: $89.99 – K2: $129.99
Seats: Available in a one- or two-persons kayak.
Material: Vinyl
Inflated Size: K1: 274.32L x 76.2W x 38.1H – K2: 350.52L x 76.2W x 38.1H cm
Kayak Weight: K1: 10.84 Kg – K2: 15.20 Kg
Weight Capacity: K1:100 Kg – 2-person: 181.44 Kg
Person Capacity: Available for one or two persons.
Special Features: Includes either one or two paddles depending on if you purchase the one or two-person kayak. High-capacity pump. Repair and patch kit.
Pros: Constructed with rugged and super tough vinyl that is UV protected. Streamline design for easy paddling and quick speed. Available in both one-person and two-person kayaks. Brightly coloured for high visibility on the water. Comes with paddles and pump.
Cons: Low weight capacity.
ADVANCED ELEMENTS Attack Whitewater Inflatable Kayak
The Advanced Elements Attack Whitewater Inflatable Kayak is for the adventurous type looking for an excellent whitewater kayak in Australia. A deep look at the kayak reviews for this Advance Elements kayak will reveal it is the ideal kayak for attacking some serious rapids. PVC heavy-duty construction, self-bailing ports, wider design for stability, and a storage compartment for a dry bag shows you just how serious this kayak is about hitting rough waters. Not for the faint of heart!
RRP: $674.99
Seats: One
Material: Heavy-duty PVC hull and PVC bladders.
Inflated Size: 289.56L x 88.9W cm
Kayak Weight: 15 Kg
Weight Capacity: 102 Kg
Person Capacity: One person
Special Features: Adjustable folding seat. Self-bailing ports. Thigh straps. Moulded rubber handles. Repair kit.
Pros: Stern deck covered cargo bay for storing a dry bag. Stable and durable. Designed for rough waters. Self-bailing ports. Comes with a carrying duffel bag.
Cons: Only designed for one person.
ADVANCED ELEMENTS StraitEdge Angler Inflatable Fishing Kayak
If you are looking for fishing kayaks in Australia, then look no further because Advanced Elements has the best fishing kayak in Australia. This inflatable fishing kayak is designed with the angler in mind with puncture-resistant PVC construction, a comfortable AirFrame PRO seat for hours of comfort, and with the accessory frame system. The accessory frame system allows you to attach rod holders, fish finders, and to hang live-wells from your boat to store the day's catch. This kayak is every fisherman's dream.
RRP: $999.99
Seats: One AirFrame PRO seat.
Material: Aluminium frame with a PVC hull.
Inflated Size: 320.04L x 97.79W cm
Packed Dimensions: 81.28L x 45.72W x 27.94H cm
Kayak Weight: 20.5 Kg
Weight Capacity: 181 Kg
Person Capacity: One person
Special Features: Metal accessory frame system for attaching rod holders, depth finders, and other after-market accessories. Self-bailing valve. Paddle holders. Removable deep skeg. Repair kit.
Pros: Built-in aluminium ribs with drop-stitch floor construction. Accessory frame to attach fish finders and rod holders. Propulsion capability designed to allow the attachment of the ElectraFin motor. Exceptionally durable. Long-lasting.
Cons: No pump included.
Inflatable Kayak FAQ
Are Inflatable Kayaks Stable?
Generally, inflatable kayaks are stable. The wider the kayak the more stable it is, but the slower it is as well.
Are Inflatable Kayaks Safe?
Inflatable kayaks are safe but normal boating safety guidelines apply. Always wear a life vest. Tell someone where you are going before leaving shore. Use brightly coloured kayaks and life vest to increase visibility to other boaters. Avoid dangerous water.
How Much Do Inflatable Kayaks Cost?
Inflatable kayaks range in prices from cheaper single kayaks under $200 to high-end whitewater kayaks and fishing kayaks with all the bells and whistles. Higher-end kayaks cost around $1,000 or more.
How Long Do Inflatable Kayaks Last?
Inflatable kayaks are made to last a long time however make sure you purchase a kayak with ultra-durable material and that you take care of your kayak. The more love and maintenance you put into your kayak, the longer it will last.
How Do I know If My Inflatable Kayak Leaks?
If your kayak loses air while in use, you have a leak somewhere. The first thing to do is immediately leave the water. Next, find a hose and apply water to the outside of the kayak slowly looking for air bubbles to form. Where you find the air-bubbles is where the leak is. Last, follow the instructions in the included repair kit and patch the leak.