With all the hype about travelling locally, everyone wants to know what the best camping tents are! There's no need to fuss about gaudy cumbersome sleeping arrangements. Ditch the conventional hotel room and choose the best way to explore – out in nature. There's not much prep to be done, grab your thrill for adventure and let's talk tents! To save on tents, check out our Tentworld promo code!
Tip: here are our top 10 self inflating mattresses for Australian camping conditions!
Top 9 Budget Friendly Tents
Here's our quick selection of the top 9 most budget friendly camping, hiking and pop-up family tents.
Types of Tents
Tents come in all shapes, forms and styles, yet there's one out there to suit all your fancies. In your hunt for the ideal cocoon of comfort and warmth, a tent should fit along the lines of :
Pop up Tent
If you're tired of the overly complicated set-up procedure, you should check this one out. Pop-out and ready for any festival, queue for the latest merch or a simple backyard camping session, the pop-up tent is ideal for those seeking convenience.
Hiking Tent
Durable, lightweight and compressible – all primordial traits a hiker must consider when embarking on a backcountry trip; thus a special category of tents sprung into existence: the hiking tent!
Dome Tent
The dome tent comes equipped with two flexible poles intersecting at the top and securing your shelter to the ground at each corner of the canvas. Designed for more moderate weather conditions, this tent is the most commonly used outdoor gear on the market.
Cabin Tent
Bringing a little glamour to the outdoors is never extra, that's exactly why you should treat yourself with a little more space to wiggle around when venturing out into the wild with a cabin tent. Cabin tents fit a larger number of people which makes it an excellent fit for camping with friends.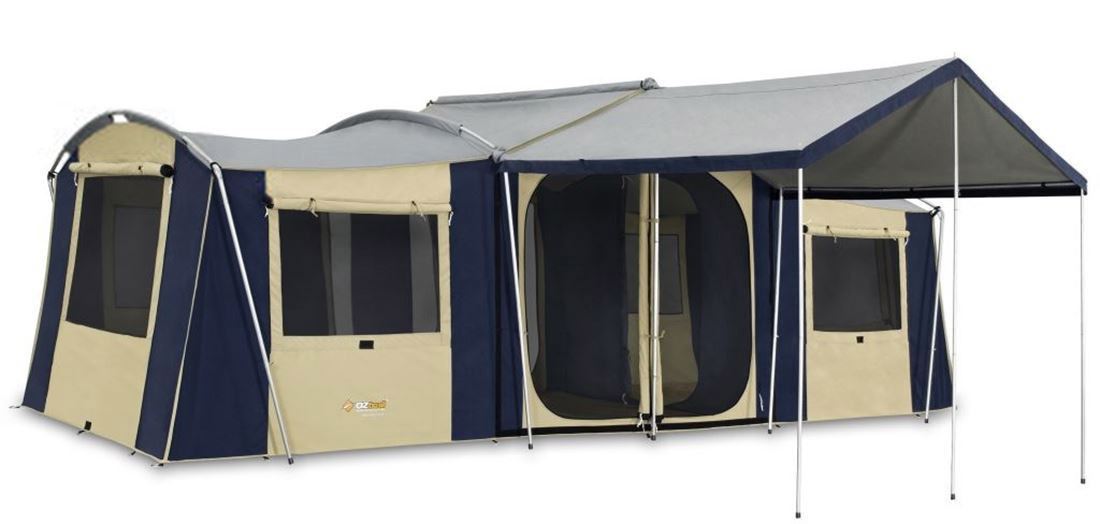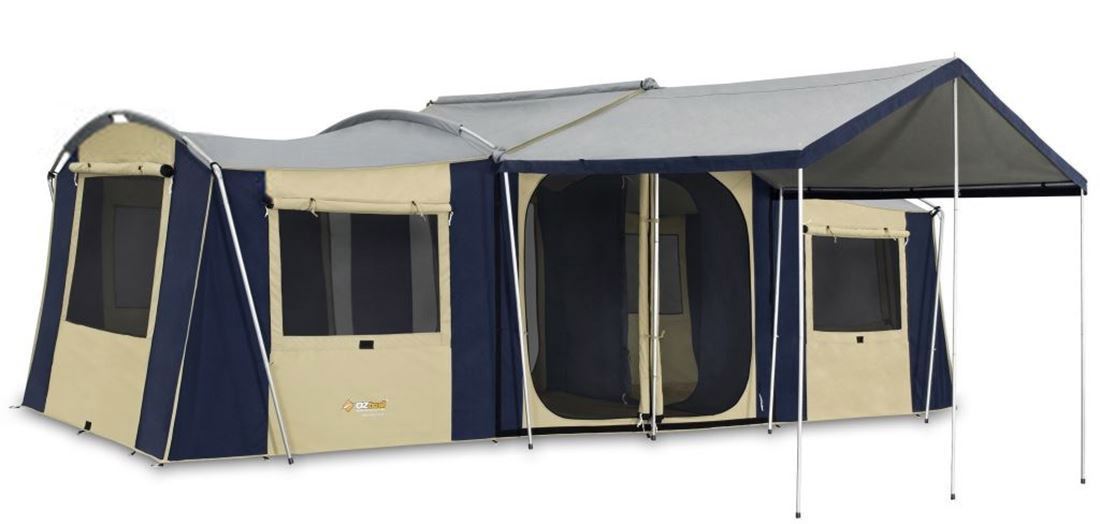 Rooftop Tent
Convenient and off the ground is not a description for your bed, it's actually the story of rooftop tents! Straying away from predators with a perfect viewpoint to the stars sounds like the adventurer's dream.
Inflatable Tent
Pitching a tent could sometimes take the fun out of camping enthusiasts, so the solution comes knocking right on your tent door! Steel poles are left behind in this equation, being replaced with air-filled beams, and now you're all set up with your inflatable tent. Instead of breaking a sweat, just snap your fingers and get ready for the holiday.
A Camping Tent For Each Season
Whether you hop on a snowy trip in the heart of the mountains or you just want to indulge in a balmy fortnight escapade, the appropriate tent might be a gamechanger.
The plethora of tents graded by season vary from 1 to 5, but in the scope of simplifying your selection, here are 2 main categories of tents by season :
Summer Tent / 2 Season Tent
Versatile and tailored to the needs of vernal and summer trips, a 2 season tent comes with ventilation windows and falls into a lower price range due to its reduced withstanding to harsh weather conditions. Nonetheless, its lightweight feature and its friendly price tag make it a recurrent companion among casual campers.
Winter Tent / 4 Season Tent
Coming in sturdy and insulated, the 4 season tent accommodates more unforgiving temperatures, snow loads and frigid ruthless winds thanks to its more durable fabrics. Beefier and roomier, they might occupy more space in your expedition gear kit, but they sure make you feel like home.
Tent Sizes And Capacity
What perhaps dictates your choice of tent is also the number of people joining you on your excursion. A 1 person tent, with its pretty self-explanatory role, stands for solo enjoyment. In contrast, a 2 person tent already contours a more capacious shelter, usually decked out with a tent entrance, a covered porch and ventilation options.
For more agglomerated journeys, a 6 person tent does pay off as they are accoutred with internal storage spaces, floor vents and a myriad of other nifty features.
Heights and lengths play as important a role in your decision-making strategy, ergo take a gander at the specifics section of your tent to better select your getaway cocoon.
Tent Material and Weight
Skimping on a lavish tent could be a favourable judgement depending on how often you might call upon it. The quality of the tent fabrics and the construction of the poles make up a grand proportion of the price, weight and durability of a tent. On the higher end, you find canvas, cotton and polyester as protagonist materials alongside aluminium steel poles. In contrast, on the more affordable spectrum nylon and fibreglass poles turn up forming a more lightweight build, more comfortable to carry around.
Waterproof Tents
Committing to a specific tent, you now realise is a meandered decision. Let's put another vital aspect in the spotlight and help you disentangle the dilemma.
Innovative as it may seem, the waterproof factor came into being in 1823 at the hands of Charles Macintosh who utilised rubber dissolved in coal-tar naphtha to cement two pieces of cloth together. Now taking it for granted, this feature is a must-have to handle any wind and rain hurtling against the side of your tent. Secure yourself a watertight getaway and safely relish in the unpredictability of nature.
Lightweight Tents
Packing for any holiday is a troublesome affair, there's so much that needs to be stuffed in a tiny space! Bearing that in mind, a lightweight tent among other well-compacted outdoor gear could be an efficient problem solver. No more sacrificing your back and knees carrying the hefty home away from home. With the latest upgrades in the realm of tents, there are now ultralight options that don't neglect comfort, durability or space.
Best Tents Buying Guide List
Best Hiking Tent
Enough with the chit chat, let's showcase some of our top picks in the hiking tent department :
Explore Planet Earth Spartan 3 Hiking Tent
This tent makes it a dream to travel in trios – with a vestibule and mesh-covered doors on each side of the tent, a vehement water resistance, pockets for all sorts of trinkets and a simple pitching process. Well-made & competitively priced, the Spartan 3 Hiking Tent plays on our needs for ultra compressibility; thus the tent is accompanied by a compression storage bag and is able to fit in your backpack.
Sleeping capacity : 3 person
Weight : 3.3kg
Season Type : 3 season tent
Material: polyester inner, aluminium frame
Black Wolf Mantis UL II Hiking Tent
Compactness and reliability are the ruling assets when parleying about a shelter meant to be carried around hiking trips.
Armed with a nylon fly with a waterhead rating of 2000mm, taped seams, a mesh head and foot vents, the Mantis UL II turns out to be an optimal dwelling for both atrocious and inoffensive climates. A pair of hikers, a couple of doors and a pair of vestibules makes of this tent a soaringly veritable travel comrade.
Sleeping capacity: 2 person
Weight : 2.1kg
Season Type : 3 season tent
Material: nylon, polyester, aluminium alloy frame
Zempire Mono Hiking Tent
A minimalist and lightweight design, in conjunction with a waterproof floor, solid draft panels and a bang for your buck type of deal manage to metamorphose Zempire Mono into an accessible and irreproachable hiking and backpacking tent.
Sleeping capacity: 1 person
Weight : 1.7kg
Season Type : 3 season tent
Material: polyester, aluminium alloy frame
Best Pop Up Tent
Here are our favourite pop-up tents for Australian camping.
Explore Planet Earth Speedy Blackhole 3 Pop Up Tent
At the snap of a finger, you get a sun-blocking, breathable polyester lined and battery-powered tent perfect for a weekend wandering-around in nature. By dint of Explore Planet Earth, you get a 1 person tent furnished with a pop-up frame, a LED intents lighting system and bountiful pockets to store your valuables and travel essentials. Spare a thought for some AA batteries or a power bank as they don't turn up alongside your tent.
Sleeping capacity : 3 person
Weight : 4.5kg
Season Type: 2-3 season tent
Material: polyester, speedy flex resin frame
Coleman Pop Up Dark Room 2P Tent
As the name implies, this tent has a leisurely setup process, blocks out daylight with its Dark Room technology and is catered to duos in need of temporary housing.
The tent features an outlet for cords, sheltering against drizzles, a storm guard and a transparent roof window exceptional for a prolonged stargazing sesh.
Sleeping capacity: 2 person
Weight: 4.4 kg
Season Type: 2-3 season tent
Material: polyester, polyurethane coating, steel wireframe
Outdoor Connection Easy Up 4 Pop Up Tent
Ventraflow panels and windows for ventilation? Check.
UVProtek treated to forestall degradation? Check.
Waterhead floor and sealed seams to face moody Mother Nature? Check.
Outdoor Connection provides a 4 person tent, ready for some action whenever you are!
Sleeping capacity: 4person
Weight : 5.8kg
Season Type : 3 season tent
Material: polyester, fibreglass frame
Camping Tent FAQ – Frequent Asked Questions
In our trial to anticipate your further inquiries about tents, allow us to prescribe 3 steps to clean out your trusty roaming buddy.
Step 1. Forget about your washing and drying machine
Most tents and their seams may deteriorate due to the heat and friction generated by an automatic washing operation, so ditch your procrastination and let's gently spruce up your portable palace.
Step 2. Comprise a cleaning supplies kit
Gather a non-detergent soap, a hose, a sponge and carefully scrub soiled patches of your tent's fly and floor. Soak the tent in sudsy water, then rinse it out.
Step 3. Dry out and store prudently
When damp, your tent could potentially grow mould and give off a stinky smell harmful to both the user and the durability of the tent. Leave it out to entirely dry and store your tent in a cool and dry place.
How to waterproof a tent
Another commonly bumped into question mark is "How to waterproof a tent?"
Even though your tent is manufactured as highly water-immune, the sealant might wear out over a long period of usage. In order to thoroughly waterproof your tent, you could apply fresh coats of seam sealer and urethane coating to the rainfly and the tent floor to keep moisture out. In the case of a non-waterproof tent, we recommend a non-DIY procedure and advocate for a waterproof purchase devised in advance.
Now that you're set up with all the know-how conceivable about tents, depart from your screen and unleash your inner explorer! Your adventure is just one tent away.