If you're looking for the best roof top tent in Australia, you've come to the right place! In this post, we'll take a look at all the different roof top tents out there. Roof tents are a luxury when it comes to camping and 4 wheel driving around Australia so defining the best roof top tent comes down to your car, your needs and your budget; let's jump in!
Having a roof tent can make the difference between setting up camp in a matter of seconds vs having to pitch a tent or a swag on the ground in the dark. Especially when camping in Australia, a rooftop tent can add an extra safety aspect, especially when you're in croc territory!
Top Roof Top Tents 2021
| Brand/Model: | Weight: | Tent Type: | Price: |
| --- | --- | --- | --- |
| 23Zero Dakota 1400 | 57.6kg | Soft shell | Click to check |
| Darche Intrepidor 1400 | 52kg | Soft shell | Click to check |
| iKamper X-Cover | 55kg | Soft shell / hybrid | Click to check |
| Eezi Awn Dart | 70kg | Hard shell | Click to check |
| iKamper Skycamp 2.0 | 72kg | Hard shell | Click to check |
| Kings Kwiky MKII | 73kg | Hard shell | Click to check |
| Eezi Awn Blade | 72kg | Hard shell / hybrid | Click to check |
| Eezi Awn Stealth | 90kg | Hard shell / hybrid | Click to check |
| Grand Tourer MKII | 93.5kg | Hard shell / hybrid | Click to check |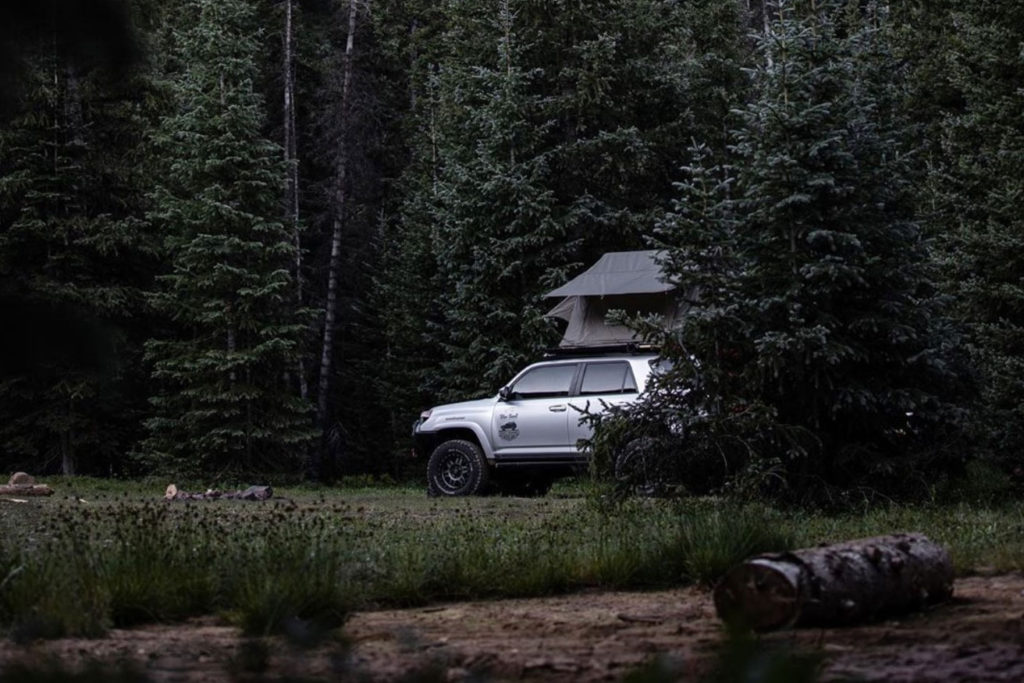 How to choose the best roof tent for you
Roof top tents can be split up in a few 3 categories (hardshell with rails, hardshell aero and soft shell), depending on your budget and needs, one of these will most likely do the trick for you. When choosing a roof top tent, here are a few things you should keep in mind when comparing products:
Size & capacity – chasing the right roof tent will come down to the vehicle you own, depending on the load and roof capacity, this will dictate which tents you can consider.
Mattress padding – having a comfortable night sleep will highly depend on your rooftop tent's mattress quality. Cheaper tents usually have low-quality mattresses, so this is a crucial consideration.
Budget – roof top prices range from $1,000 to $6,000+ and for a good reason. Quality is usually what you pay for, so an Australian Made roof top tent will always cost a lot more compared to a cheap Chinese knock off.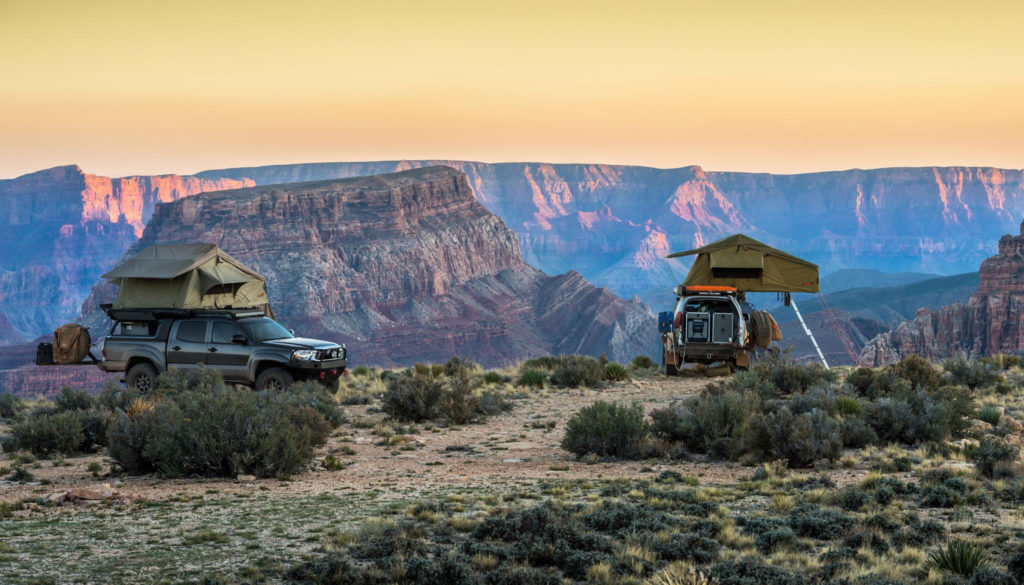 Hardshell Roof Top Tents
Hardshell roof tents are the creme de la creme when it comes to camping with your 4WD. They are incredibly easy to set up thanks to their designs which is either a clamshell or a pop-up type set up. These tents go up in a matter of seconds so if time and convenience are important to you, consider splurging on a hard shell.
Modular Hardshell Roof Top Tents
No one really talks about this category, but it's important to mention. Most budget-friendly hardshell roof top tents are made out of fibre or plastic. This is great because it makes them lightweight and aerodynamic; however, it does limit their functionality. Having space on your roof rack to store extra equipment is a must for many overlanders, so having that valuable space taken up by a plastic hardshell tent can be counterproductive. This is where the expensive, usually aluminium rooftop tents with mounting rails come in. These bad boys are often much heavier, much sturdier and can handle an extra load such as a kayak, bike or spare tire.
Softshell Roof Top Tents
Soft-shell roof tents are usually the cheapest, but they are also the most time consuming to set up. The design is typically a fold-out one where you pull the ladder, and this makes the tent pop up. These tents might also require you to tie down the canvas and add tent poles to the setup.
On a positive side, these soft-shell tents usually take up less space on the roof due to their fold-up design, so this can be a bonus if you have a short wheelbase 4WD and need that extra space for fuel, water etc.
The other downside is that when your tent gets wet, it's a pain to pack up and you will need to dry out the tent properly to prevent any mould from growing.
Roof Top Tent Insulation
From doing extensive research, I've found that rooftop tent insulation is a significant factor when it comes to price and quality. Cheap tents often don't have insulation layers, and this will result in condensation building up between the tent canvas and the hard shell. The most premium brands will always have insulated foam layers to prevent this from happening, but you will pay a pretty penny for the luxury.
Hardshell vs Softshell Tents
Soft-shell is more budget-friendly and takes up less room whereas hardshell can be more aerodynamic (useful for saving fuel), easier to set up and pack down but also more expensive.
That said, many soft-shell designs are starting to incorporate the functionality of hardshell models, and we've looked at some top Australian brands who are making the list of best roof top tents for your car.
Can my car handle a roof tent?
Rooftop tents are usually reserved for serious 4X4 vehicles, but these days manufacturers are even designing tents for Mini coopers! What I'm saying is that there's often a roof tent that will suit your particular car, the most critical consideration are weight and dimensions. Your car instruction manual will specify how much weight your roof can handle and for some car that will be reduced for off-roading and city driving.
It's important to stick within these requirements because if you happen to have an accident and your rooftop tent was well over the recommended weight, the chances are that your insurance won't cover you. Make sure you got the right car for the right tent, and you'll be good to go!
The Best Roof Top Tents For Australia
With more roof pods and roof tents entering the market, our list will be ever-changing but for now we've narrowed it down to the following roof top tent brands and models. To make it easier, we've split it up in 3 separate groups: best hard-shell roof tents, best soft-shell roof tents and best hardshell + rails roof tent. Each category has it's own pros and cons which we discussed before, so there isn't a single category that is "best", it will all come down to your requirements.
Top 3 Soft Shell Roof Top Tents
Soft shell roof top tents are by far the most popular tents you will see out and about. That's because the entry level in terms of pricing is very attractive and these tents are also extremely light weight, perfect for most 4WDs
1: 23Zero Dakota 1400 Rooftop Tent Review
The 23Zero Dakota 1400 roof tent is one of the best soft-shell tents out there. Its compact design means you will save space on your roof rack for other equipment and the LST (light suppression technology) means you will be able to enjoy a sleep-in. Best of all is the price! This tent can be had for around $1399 and is lightweight, coming in at 57.6kg.

The 23Zero Dakota also features a zip down sky roof for stargazing and full-size side windows for great views and excellent air circulation. The base is made out of alloy and has an insulating layer to prevent moister from building up inside.

When it comes to sleeping, the 23Zero Dakota sports a 65mm memory foam mattress for extra comfort.
2: Darche Intrepidor 1400 Roof Top Tent Review
Darche is one of the most recognised Australian camping brands, and this Intrepidor 1400 roof tent is an absolute bargain at $1249. Darche has some 20+ years of experience in the Aussie outback, so you know this product was made and designed for Australian conditions. The Darche Intrepidor 1400 Roof Top Tent is exceptionally lightweight, clocking in at only 52kg! This is due to the flooring which is made out of HD compressed baseboard instead of aluminium.

The Darche Intrepidor comes with 180° side windows for uninterrupted views, canopy and fine insect mesh to keep the mozzies out. Built-in air vents and a 65mm memory foam mattress will keep you cool and comfortable on your next camping trip.

Packing down this roof tent is pretty easy thanks to the built-in bungee cord which keeps everything together. The Darche roof top tent now also features a sky window which you can open up for stargazing in the Australian outback.

Thanks to the compact fold-up design this tent is ideal for almost any large car SUV or 4WD, the length when packed up is only 121cm which leaves plenty of space for your other gear on the roof.
3: iKamper X-Cover Review
South Korean startup iKamper took Kickstarter by storm when they launched their unique rooftop tents, winning them a coveted reddot award in 2019! iKamper is now also in Australia, and their X-Cover tent is one you should definitely check out. It's a hybrid soft-shell tent but also features bonus roof racks so you can have a soft-shell with the additional storage capacity for anything else you might want to carry on your roof.

All this at a class-leading weight of only 55kg is pretty amazing and due to its folding design, this roof top tent is ideal for most roof racks, even on medium four-wheel drives.

Thanks to the unique design of the iKamper X-cover, the tent itself is the biggest one when fully deployed and is rated to sleep up to 4 people or 2; very comfortably.

Naturally, this rooftop tent also has a sky view for looking at the stars and a high density 65mm memory foam mattress on an insulated base; what more would you want?

Setting up the X-Cover can be done in 3 minutes, so this soft-shell really gives the hardtops a run for their money.
Top 3 Hardshell Roof Top Tents
Hardshell rooftop tents are usually more expensive but are also extremely fast to deploy and offer a low profile solution for your 4WD. Most hardshell roof tents are made out of robust and durable fibreglass or plastic; this makes them so light and allows them to keep the profile on your roof down to the minimum. These tents feature gas struts which will enable you to pop it open and deploy the roof tents within seconds without needing to do anything else.
Hardtops like this come in 2 variations, the first is the most standard clamshell design, the other one is the pop-up design where the whole roof lifts up on struts. The pop-up design is best for those looking to have the maximum amount of space available inside the tent. In contrast, the clamshell design is more sturdy and usually more aerodynamic due to its profile.
1: Eezi Awn Dart Roof Top Tent Review
The Dart rooftop tent by South African tent specialists Eezi Awn is by far the best choice if you're looking for a lightweight, compact and affordable roof tent for your four-wheel drive. This tent weighs 70kg and comes fully equipped with an LED interior light, and an 80mm thick SABS approved mattress. Unlike cheap hardshell tents, this one has insulation in the floor and ceiling to prevent condensation from forming.

Setting up the Eezi Awn Dart tent is super easy with the internal gas struts and integrated buggy cord to fold it back up when you need to go.

The fibreglass shell of this roof tent makes it very sturdy yet lightweight, and the aerodynamic profile will increase your gas mileage compared to other more boxy tent designs on the market.
2: iKamper Skycamp 2.0 Review
In 2017 the Skycamp became the most crowdfunded tent raising US$2.3 million before the tent was ever produced! The Skycamp 2.0 is now sold in over 26 countries and has won a reddot award for design; for a good reason!

The iKamper Skycamp 2.0 is a hardshell tent which has the clamshell built on the long side. This means the tent is much more spacious while still maintaining a compact footprint on your roof.

The Skycamp has a king-size mattress big enough to sleep 3 adults and an aerodynamic double-layered hard shell made out of fibre-reinforced plastic to keep condensation at bay and also improve mileage while mounted to your rooftop. The tent is very lightweight due to the honeycomb aluminium flooring (strong enough to hold the weight of a Jeep Wrangler). In total this tent only weighs 72kg which is very good considering how big it is once deployed.
3: Kings Rooftop Tent Review (Kwiky MKII)
If you're looking for a budget pop up roof top tents, look no further than the Kings roof top tent model Kwiky MKII by 4WD Supa Centre. This tents pops up on gas struts in under 2 minutes and provides a great deal of headroom for 2 adults when fully deployed on your roof. While the mattress is only 50mm, this is to be expected in this price class, that said, you can always buy your own mattress since the total cost of this roof tent is so low. (Only AU1,200).

The Kings Roof Top tent Kwiky MKII has windows on all sides of the tent and has mozzie and midgee proof netting for insect-free night sleep. The external shell is made from ABS anti-ageing polymer, and with a weight of 73kg, it will be suitable for most 4WDs.

Inside this roof top tent by Kings, you will find a bunch of storage pockets for all your stuff and getting in and out is a breeze thanks to the aluminium telescopic ladder which is included in the price. Overall, this tent ticks a lot of boxes, especially at this price point!
Top 3 Modular Hardshell Roof Top Tents
Modular roof tents are the most expensive of the bunch and most of the time they are made out of sturdy aluminium sheets, they are still lightweight but also offer the option to carry extra load via rails mounted to the top.
This allows you to carry extra equipment such as a bike, kayak or a spare tire; a huge bonus compared to the regular hard shell rooftop tents made out of fibreglass.
The main downside is that these tents can be pretty heavy so you will need to make sure your vehicle can handle the extra roof load. They're also hard to take off, so most people leave these on the roof permanently.
1: Eezi Awn Blade Roof Top Tent Review
The Eezi Awn Blade is one of the best-looking aluminium rooftop tents out there. Its ultra-thin profile makes this an aerodynamic beauty with the added bonus of roof rails which allows you to mount additional equipment to the top of the tent. This aluminium tent is ultra-rugged but only weighs 72kg (including the free ladder!) which is as much as the much smaller fibreglass tents out there.

Inside is a crazy thick 80mm mattress, LED lighting and a 12V socket to charge your devices. This tent is a premium product so expect it to be fully insulated and easy to set up and pack down thanks to the bunny cord.
2: Eezi Awn Stealth Roof Top Tent
This is the big brother of the Blade and also manufactured by Eezi Awn in South Africa. The Eezi Awn Stealth clocks in at 90kg but for that weight increase, you get extra space and comfort. Thanks to the scissor mechanism, the clamshell design pops up at the hinge, which significantly increases the interior space of the tent.

Setting up the tent is a matter of seconds thanks to the gas struts, which raises the shell of the tent by itself. The outer material is made out of quality aluminium and also has the K9 rails fitted so you can further expand the real estate on your roof.

Of course, there are LED interior lighting, power plugs and an 80mm thick mattress pad to guarantee a comfortable night sleep.
3: Grand Tourer MKII Rooftop Tent Review
For a budget-friendly alternative to the above, look no further than the Grand Tourer MKII which is about half the price at only AU$2495.
It's essentially a copy of the Eezi Awn Blade but much heavier at 93.5kg and with a slightly thinner mattress of 75mm.

The Grand Tourer MKII Aluminium Rooftop tent is just as easy to set up and pack down thanks to the clamshell design and also has a roof rack mounting bracket so you can attach more equipment to the top.

The tent is spacious, allowing you to leave all the bedding inside when you pack up and hit the road.
Best Roof Top Tents In Conclusion
As you can see, there are many factors to consider when shopping for a rooftop tent for your next camping adventure. If you're starting out, the best choice will be to go with a softshell design since they are so affordable and the perfect solution for a lot of people.
Advanced campers and overlanders might want to look into the aluminium designs which offer added strength and the option to fit more accessories to your roof for longer trips.