The best travel backpack and the best travel bags are those that are perfectly tailored to your individual needs. How long will you be travelling? Are you camping and need to pack the appropriate equipment or are you staying in hotels and hostels? Will you need extra cold-weather clothing for your destination, or will you be in swimsuits, t-shirts, and sandals the entire time? Not only should you think about where and how long you will be travelling for but think about how tall you are and how much weight you can carry. The best hiking backpack for your trek should fit your body comfortably, not cause you to wobble or feel off-balanced and should have some ventilation between your back and the bag. Regardless, backpacks for travelling are wonderful and convenient. Here are some tips on what you should consider before purchasing a new travel backpack.
Also check out our top 10 best hiking boots for Aussie backpackers!
Our Top 6 Pick Up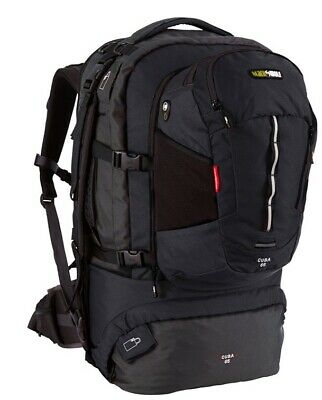 AU $165.06
AU $281.83
out of stock
Travel by Backpack vs Roller Luggage
Roller luggage is nice and convenient as well but for different purposes. Taking a weekend trip to see a friend out of state? Perfect. Going to a conference for work? Makes sense. However, if you plan on travelling around a country by bus, or spending time in cities with lots of cobblestone streets, a backpacking backpack is more ideal. Any destination where a lot of walking will be required will be a nightmare for roller luggage. If you are going in a taxi straight from the airport to the hotel, then roller luggage will be fine. Consider that a travel backpack can be used in every situation and roller luggage only in select circumstances.
How Do You Travel and Backpack Size?
What kind of traveller are you? Do you pack light, or bring everything but the kitchen sink? Think about this before deciding what kind of backpack you will need.
A Day Traveler
If you are only going on a short-day trip in and around your city, small travel bags like a 30 litre backpack or a daypack would be best. Just pack up a few articles of clothing, sunglasses, your electronic devices, camera, chargers, a good book, some snacks, and you are all set to leave at a moment's notice.
Shorter Trip with Carry-on Luggage
The best carry on backpack will be designed with airline specifications in mind. Be sure to read your backpack specifications before purchasing if you would like to use it as carry on luggage. The backpack should clearly state if it is following airline baggage guidelines.
Longer Trip with Airline Bag Check-In
A large backpack used for longer trips that may need to be checked by the airline should contain a few things for your protection. First, you will want a backpack with lockable zippers. Even better if the travel backpack includes padlocks on each of the zippers. Never can be too safe with securing your property.
Hiking and Camping
Travel back packs designed for hiking and camping will have features maybe not present in other backpacks. Consider adjustable straps, trekking pole holders, hydration capabilities, and exterior tent or sleeping bag storage.
How to Choose A Comfortable Backpack
Whether you are just wearing your backpack while travelling through the airport or on long full-day treks, you will want your backpack to be comfortable. Here is a list of what to look for to provide maximum comfort on your next trip.
Shoulder Straps
If possible, your backpack straps should include some form of padding. Padded shoulder straps will put less pressure on your shoulders.
Hip Belt
A padded hip belt is great to distribute the weight of the backpack over your entire back. It also makes your backpack much more comfortable overall. Make sure it is adjustable so you can have the hip belt tied firm against your body.
Sternum Strap
The sternum strap is used to disperse the weight of the backpack and to keep the shoulder straps from sliding off your shoulders.
Backpack for Men vs Women
Some backpack brands have specific backpacks designed for male or female bodies. If this is a concern of yours, choose whichever you are more comfortable with, otherwise, a unisex backpack will suffice as well.
How Do You Organize Your Backpack?
When it is time to decide what to pack when travelling and how to pack a hiking pack you will want to explore what kind of storage compartments your travel bag has. Let us look at a few of the organizational features your backpack may or may not have.
Clamshell vs Top Loading
First, is your backpack a clamshell or top-load design? Clamshell backpacks are great because you can have equal access to everything you packed compared to if you have a top-load backpack and the things that you packed first, will be at the bottom and difficult to reach without removing everything in your bag.
Backpack Pockets
Everyone loves pockets! The more the better. Check if your backpack has mesh side pockets for water bottles or internal security pockets for important items. Some even have anti-scratch pockets for sunglasses and cellphones.
Laptop Compartment
If you are a digital nomad, or just need to bring a laptop with you on your trip, consider a backpack with a padded laptop compartment. Especially if you are checking your bag.
Backpack Material
The material of the backpack is important to ensure long life and waterproof characteristics. Your backpack is going to be tossed from aeroplanes, buses, and into the back of vehicles constantly. You will want a backpack made from a durable and tough material that can take a beating.
Material Type
Most heavy-duty backpacks will be made from different forms of ultra-strong nylon material. Backpacks made from leather and canvas are thought to be durable as well.
Water Resistance or Rain Cover
Some backpacks will be manufactured with water-resistant material but consider a rain cover for the best protection from outside elements.
Security
When travelling overseas you will want to make sure your backpack is secure at all times. Your backpack travel bag is a target for petty thieves looking for a quick score. They hope to find a phone, a camera, or even a wallet filled with cash. Having lockable zippers is the best solution.
Lockable Zipper
Lockable zippers are a must-have on your backpack no matter where you are travelling. There will be times you will not be with your bag. Having lockable zippers will deter would-be thieves.
RFID Protection
Identity thieves are getting cleverer with their tactics. Having a security pocket with RFID protection will prevent hackers from scanning your backpack to steal credit card or passport numbers.
Best Travel Backpack Reviews
Black Wolf Cuba 65L Travel Pack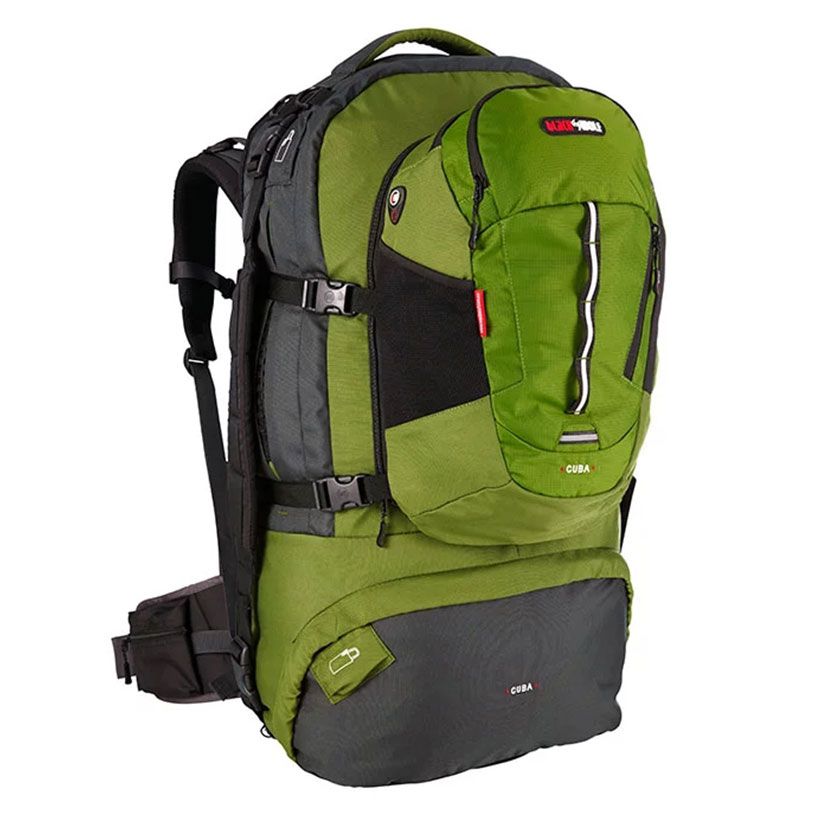 The Black Wolf 65l backpack is an incredible travelling backpack at an incredible price. If you are waiting for a travel backpacks sale, now is the time to purchase the Black Wolf Cuba 65L Travel Pack which has been seen on sale for as much as 39.1% off of RRP. The Black Wolf backpack is a great size, includes a daypack, and includes a built-in rain cover and waterproof zips. The daypack also comes with hydration compatibility for sustained hydration on long day treks.
RRP: $319.99
Features: Ergo-fit harness. Padded laptop compartment. Adjustable sternum strap. Removable rain cover. RFID protected pocket in the daypack. Two lockable zippers with padlocks.
Dimensions: 69L x 38W x 26H cm
Capacity: 65L + 20L Daypack
Material: 600D Polyweave EXCEL PU | 1000D Polyweave EXCEL PU | 420D Mini Ripstop PU Daypack
Weight: 3.1 Kg
Pros: Excellent price to quality ratio. 65-litre capacity. Strong and durable. Covered by a limited lifetime warranty.
Cons: Daypack too small.
Black Wolf Cedar Breaks 65L Travel Pack
The Black Wolf Cedar Breaks 65L travel pack is one of the best backpacks for travel due to its size, extra comfortable design, and the included 25L daypack. Just load and go travel anywhere and in all weather conditions due to this travel backpack's built-in rain cover and waterproof zips. Designed with the ultimate trekker at heart, this Black Wolf travel pack includes a 25L day backpack for your day trips. Leave all your heavy gear back at camp while you travel light as a feather to the mountain top.
RRP: $379.99
Features: Front access. Shoulder strap and a micro gel harness. 10-litre expansion pack. Bult-in removable rain cover. 17-inch laptop compartment. Lockable zippers. RFID protected pocket. Safety whistle.
Dimensions: 70L x 36W x 25H cm
Capacity: 65L + 25L Daypack
Material: 600D Polyweave EXCEL PU | 1000D Polyweave EXCEL PU | 420D Mini Ripstop PU Daypack
Weight: 3.4 Kg
Pros: Heavy-duty and durable materials. Comes with 25L daypack. Covered by a limited lifetime warranty.
Cons: Some reported zipper trouble.
Sportztrek Viva Backpack – 70L
The Sportztrek Viva 70 litre backpack is perfect for people searching the internet for large backpacks and cheap backpacks. This travel backpack has most features you need in a quality and dependable travel back pack at half the cost. Its 70-litres of capacity and the additional zip-off small backpack is everything you need for your next trip to the beaches of Bali, or the mountains of the Sierra Nevada in Colombia.
RRP: $149.99
Features: Ladder harness. Dual compartment storage. Side compression straps. Zip-off daypack. Lockable zips. Detachable padded shoulder strap.
Dimensions: 68L x 38W x 28D
Capacity: 70L
Material: Polyweave
Weight: 3.8kg
Pros: Inexpensive. Lockable zips. Large size. Includes daypack.
Cons: No RFID protected compartments or pockets for document and credit card security.
Karrimor Global 70L to 90L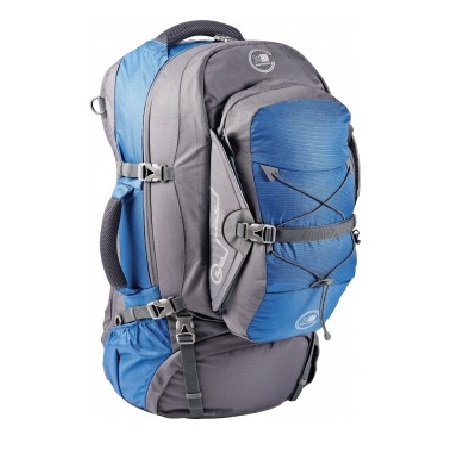 The Karrimor Global is the best backpack for travel if you need a lot of room. This large backpack comes in 70-litres with a 90-litre option. Plenty of storage options and plenty of space in this adventuring backpack. Easily pack away a tent, a small camp stove, some warm clothing, and whatever else you will need on your trek.
RRP: $349.00
Features: Zip away SA back system. Removable daypack. Front security strap. Large internal zipped mesh pocket. Two internal security compartments. Compression straps and air-mesh padded grab handles.
Dimensions: Not given
Capacity: 70-90L
Material: 420 denier nylon fabric
Weight: 3.2 Kg
Pros: Large compacity and plenty of storage compartments. Internal security compartments.
Cons: No RFID protected compartments or pockets for document and credit card security.
Marmot Graviton 48L Backpack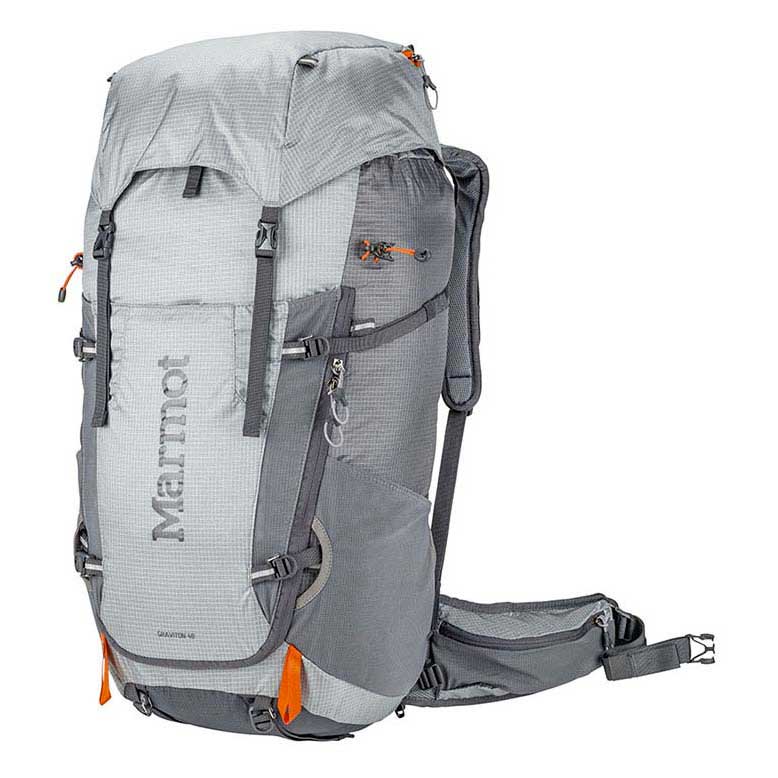 The Marmot Graviton lightweight travel bag is one of the best travel bags. Weighing only 1.18 kilograms, this Marmot backpack is versatile, durable, and comes from one of the best backpack brands on the market.This is a backpacker's bag with a lightweight design and an impressive list of features.
RRP: $249.99
Features: Padded waist belt with dual mesh zippered pockets. Removable lid with key clip. Adjustable side and bottom compression straps. Trekking pole attachments. Hydration port. Sternum strap. YKK zippers.
Dimensions: Not given.
Capacity: 48L
Material: 70D 100% Nylon two-tone ripstop – Lining: 135D 100% polyester – 100D 100% Nylon triple ripstop.
Weight: 1.18 Kg
Pros: Excellent brand at an excellent price. Efficient and easy to use backpack.
Cons: No RFID protected compartments or pockets for document and credit card security.
CAMEL CROWN 45L/58L Hiking Backpack
The Camel Crown 45l backpack is the ideal carry on backpack due to it being the maximum allowed size to store in the overhead compartments as your carry on luggage backpack. Camel Crown backpacks are a great brand for good backpacks at a cheap price. Budget backpackers looking for a functional and quality backpack without the jaw-dropping price tag will love what Camel Crown has to offer.
RRP: $68.99
Features: Large front zipper pocket. Rain cover pocket and removable rain cover included. Two hip belt pockets. Two side pockets. Multifunctional straps.
Dimensions: 54.99L x 30.63W x 18D cm
Capacity: 45L
Material: Not given.
Weight: 1.53 Kg.
Pros: Inexpensive. Easy to pack and unload. Ultra-lightweight. Many compartments. Water-repellent exterior coating.
Cons: No RFID protected compartments or pockets for document and credit card security.
High Sierra Pathway Internal Frame Hiking Pack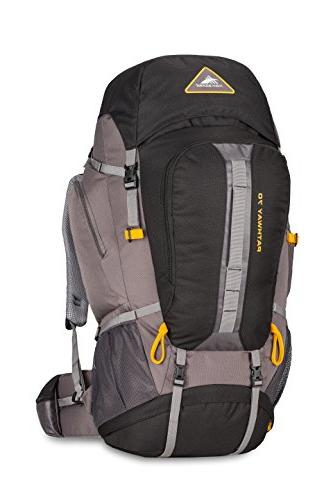 The High Sierra Pathway travel backpacks are ultra-durable, reliable, and come in six different sizes and five different colours. Off all the backpack brands out there, not that many have as many options in terms of size and colour. Whether you want a 40 litre backpack or 50 litre backpack or even a 70l backpack, High Sierra has you covered. Designed for comfort and ease, save wear and tear on your back with an adjustable shoulder strap and extra padded shoulder comfort.
RRP: 30L: $59.99 – 40L: $69.99 – 50L: $79.99 – 60L: $89.99 – 70L: $99.99 – 90L: $119.99
Features: Adjustable shoulder straps with non-slip should pads. Large main compartment. Multiple pockets. Beverage pocket. Trekking pole attachments.
Dimensions: 30L: 58.42L x 31.75W x 22.86D cm – 40L: 58.42L x 31.75W x 22.86D cm– 50L: 58.42L x 31.75W x 22.86D cm – 60L: 63.5L x 33.02W x 22.86D cm – 70L: 63.5L x 33.02W x 22.86D cm – 90L: 70.99L x 35W x 22.86D cm.
Capacity: 30L, 40L, 50L, 60L, 70L, 90L
Material: 500 x 500-denier waffle ripstop Duralite fabric combined with a durable 900-Denier Duralite, water-resistant Tech-Weave to help keep gear dry.
Weight: 30L: 0.90 Kg – 40L: 0.90 Kg – 50L: 1.13 Kg – 60L: 1.13 Kg– 70L: 1.13 Kg – 90L: 2.08 Kg
Pros: Comes in almost every size imaginable. Ultra-durable. Economical. Comfortable.
Cons: No rain cover included. Must purchase separately.
Deuter Futura PRO 40 Hiking Backpack
The Deuter is the best travel backpack by one of the best backpack brands on the market. Deuter has built quite the reputation of providing excellent quality at mid-tier pricing. This featherlight 40l backpack possesses max ventilation and perspiration reducing Aircomfort Sensic Pro back system tensions. This design allows for air to travel between the user's back and the travel pack.
RRP: $165.75
Features: Dual zippered pockets on the hip belt. Hiking pole attachment loops. Side compression straps. Mesh water bottle pockets. Adjustable chest strap. Built-in rain cover. Separate bottom compartment.
Dimensions: 73.99L x 29.99W x 24D cm
Capacity: 40L
Material: Not given
Weight: 1.61 Kg
Pros: Featherlight. Durable. Versatile. Top-loading. Weather-proof. Affordable. Comfortable. A hydration system.
Cons: No RFID protected compartments or pockets for document and credit card security.
ALPS Mountaineering Tour Day Backpack 35-45L
ALPS Mountaineering brings us the best daypack or overnight travel bag depending on your use. This small travel backpack also makes the perfect travel backpack carry on due to its compact size. The ALPS Mountaineering Tour Day back pack is an ideal backpack for travelling on short distances or weekend trips. Simply bring a few changes of clothes, your toiletry items, your electronics, chargers, and you are set for a quick trip to see your friends for the weekend.
RRP: $109.99
Features: Roll top expansion to 45-litres from 35-litres. Trekking pole loops. Compression straps. Removable waist belt. Removable sternum strap. Aluminium frame. Hydration point. Front zipper pocket. Stretch side pockets. Built-in rain cover.
Dimensions: 55.88L x 38.1W x 15.24D
Capacity: 35L – 45L
Material: 200D nylon double ripstop fabric with 3D mesh suspension.
Weight: 1.19 Kg
Pros: Lightweight. Accessible. Comfortable. Affordable. Versatile. Durable. Long-lasting. Stylish.
Cons: No RFID protected compartments or pockets for document and credit card security.
Osprey Fairview 55 Women's Travel Backpack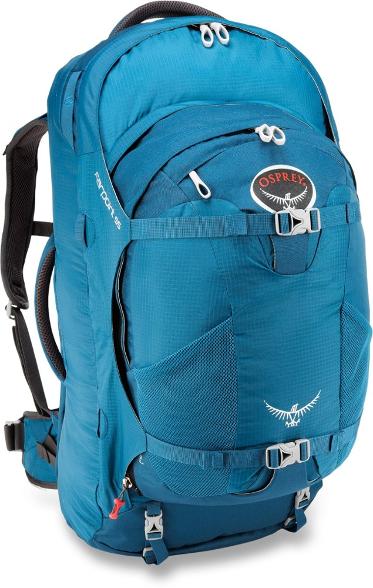 Osprey's travel backpacks for women are phenomenal. If you feel like most travel packs are travel backpacks for men, Osprey has the answer. This backpacker bag is a womens travel bag that is comfortable, durable, contains a lot of storage, and comes with a detachable daypack.
RRP: $109.98
Features: Large, lockable access to the main compartment. Detachable daypack. Stowaway back-panel. Comfortable shoulder straps. Padded laptop compartment. Scratch-free pocket for electronic devices and sunglasses.
Dimensions: 63.5L x 33.02W x 30.48D cm
Capacity: 55L
Material: Not mentioned
Weight: 1.70 Kg
Pros: Lightweight backpack. Security features including lockable zippers. Many compartments for storage. Comfortable straps designed for women. Affordable.
Cons: No RFID protected compartments or pockets for document and credit card security.